Don't Kiss Me
February 18, 2011
I should be running.
I should be getting as far away from you as possible right now. But yet, here I stand: Frozen in the heat of your brown eyes.
What did you do to me? What kind of spell did you concoct? I would love to know. Maybe then I could break free of it...
But you seem to be under the same spell. When you see me, your world stops too. Your laughter seems more fake. Your smile turns into an inquisitive smirk. And your eyes.....you're always looking at me. No matter what, you always look at me. At least once.
So who did this to us? Was it the gods? Did fate decide this attraction would just be this severe? Or are we just two lonely kids? Are we Romeo and Juliet? Tell me if you figure it out. Tell me if you already know. I'd sincerely love to find out what this is, who we are, and what part we play......
But maybe that's it. Maybe we're just two kids attempting to find ourselves in each other. Can it truly be that simple? Then why does it feel so complicated?
We're so childish. Just look at us. You with your looks and me with my wildness. And we're both restless...what a curse.
But why does this have to be a curse? I'm so tired of love curses. Nothing works out with them and you're left with nothing.
Will you be my nothing? Because that's all you should be. Nothing. I just want a fun everything.
I want a good guy.....but you aren't one, are you?
No. Don't kiss me. I should be running.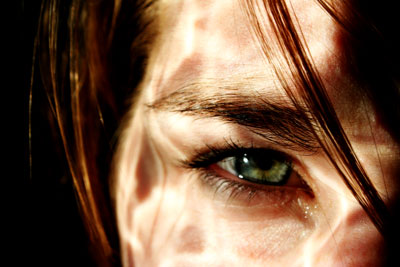 © Monica L., St. George, UT