Red Paint
February 18, 2011
A splash of red.
It paints the tarnished walls, a splattering of color. This old house is full of life, I think, you just have to know where to look. I trace my finger along the cracked wall, feeling each little imperfection in the old paint. The red paint. A cracked banister winds it way up the floors; little fissures speckle the stairs like little fireflies, light peeking through the shaded staircase.
"Do you like it?"
He stands poised in the doorway. He seems uncertain, unwilling to hear the answer.
I pause.
I kneel down, scooping up some old dirt that litters the floor, untouched by human hands for so long. I stand, opening my palm. Grains slip through my fingers, the flakes of paint mixed with the dust float up, a red cloud of forgotten memories. I turn, breathing in the fresh air moves through this old house like waves.
I turn around,
He walks through the open door and touches my swollen stomach. Kisses it.
"Please."
He wants to raise her here, his childhood home.
I could bring new life to this old place; raise my child amongst the red paint.
"Its perfect." I say, grasping his rough hand. We would remake this place. Fix it.
Paint it red.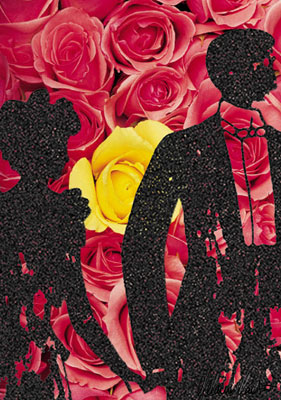 © Melanie M., Hendersonville, TN