A Piece of the Puzzle
MAG
January 28, 2011
I tentatively step into the small black box theater ­located on campus. I check my watch. Yup, right on time.

There are the seniors boys who are about as scary as they sound, and the poised junior girls checking their phones or talking to the director's assistant.

I quietly take an empty seat in the chairs arranged in a semi-circle. I remember audition day like it was yesterday: the director's short, quick words; her eyes darting back and forth, as if seeking her next big star; the assistant's kind glance at me as she mouthed "Good Luck"; my nerves that just couldn't be calmed as I looked at all the big stars on campus.

A kind sophomore explained to me the status of the thespians on campus. "They are like A-listers in this place," she sighed. "If you know them, you know everyone who needs to be known."

I fidget in my seat. The seniors are talking about the play, the one I auditioned for and, consequently, know nothing about. I feel the junior girls' eyes on me, and I whip out my phone, playing a game, pretending I'm totally engrossed in something important.

Honestly, I didn't even want to audition for the play. I just wanted to fit in somewhere. I wasn't picked for the volleyball team, my first choice. "You're just too slow," the coach had said, shaking her head. "Work on it this year, and maybe next season, you can land JV," she added with a encouraging smile before blowing her whistle for her team.

I wasn't much of a candidate for my second choice either – yearbook. "These aren't the kind of photos we're looking for," the advisor had said. "Although you've made a good start. Maybe next year."

I couldn't even get into robotics. "I'm sorry," the team captain said, "but although we appreciate your enthusiasm, we can't accept you because of your lack of knowledge." Then he slammed the door in my face.

In high school, a jungle of its own, how are you expected to survive if you aren't a piece of the puzzle somewhere? I dragged my feet to the theater, where they were holding auditions for the fall play. I loved theater, but I was always terrified to audition. Therefore, one can imagine my surprise when my name appeared on the cast list. Between the groans of disappointment and the squeals of delight, I was frozen in place, staring at my name. I couldn't believe I had made it. At least I was good at something.

Now, I'm sitting here, in the black box theater, with the scary senior boys and the infamous junior girls, listening to the petite, perky director. She tells me things I already know: that rehearsals will be long and hard, that everyone needs to put in effort, and that in the end, it will make a spectacular show with a spectacular cast.

I wouldn't find out until later that with those scary senior boys on my left (who were big teddy bears in disguise), rehearsals would fly by; that with the poised, perfect junior girls on my right (who were as crazy as can be), putting in effort wouldn't be that hard; and the perky blonde director (not only a directing genius but a loving advisor) would be the one who made this show so spectacular. I didn't know that these people would make me feel better when I was down and make me laugh until tears rolled down my cheeks, and in the end, become a second family to me. But most of all, I wouldn't know until much later that I had finally become a piece of a puzzle.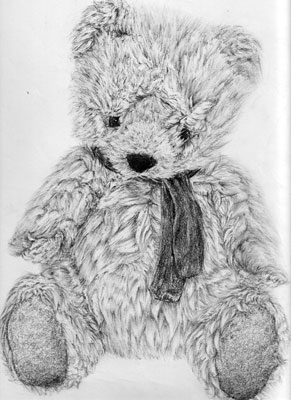 © Sarah F., Birmingham, United Kingdom