Deejay Ricky.
February 2, 2011
You know, Its weird. I like proving people wrong. I like doing things that no one thought was possible. I like taking chances. Or more like giving second chances.

It all started three years ago. I was around ten i think. December thirty first, two thousand seven. I had no idea what i was in for. I had no idea this would change my life forever.

December thirty first two thousand seven was the day where i fell in love. The day when I met DeeJay. My soulmate.

It was cold out. Well it was December in North Carolina, So it was bound to be cold. My dad wanted to show me and my sister, Kelsey, A horse and pony his friend wanted to get read of. "Now, I just want you to look. We don't need no horses right now." Gosh I can here him saying that now. That whole year i was bringing up ads of horses for sale on my computer.

"The horses' name is DeeJay, or BJ. One of those. I couldn't understand him. The pony is Clover." My dad told me as we pulled up into the long gravel driveway.

I can remember it like it was yesterday. Thats what most people say. But actually, I don't remember much of that day. I don't think that anyone that says that really means it. If you remember it like it was yesterday, well ninety precent of people don't even what they wore yesterday. So when you say "I remember it like it was yesterday", your basically saying "I think i went to the grocery store."

I remember petting Deejay that day. He was skittish, and very skinny. The pony, Clover, on the other hand was very fat. But ponies get fat off air. I didn't really pay any attention to that though. All i could think about is "I want this horse."

The funny thing is, I called him BJ the whole day. Then i wanted to change his name to Chestnut. But he wouldn't respond to Chestnut so i kept it Deejay. Once i found out his name was Deejay that is.

I would go see Deejay and Clover almost every other day. I started buying new brushes, a black grooming box and I got Deejay a purple halter that had black hearts and gold lettering that read "I love my horse." That my best friend Emily helped me pick out.

That summer, My dad and his friends began building a small barn behind my house. Two stalls, a tack room, and a hay room. Me and kelsey started taking riding lessons at a barn about thirty minutes down the road. Deejay on the other half wasn't doing so hot. That summer is the summer I found out that his hasn't been ridden in a while. A while meaning a couple of years. That is when the challenge came in.

He wouldn't take the bit. He wouldn't stand still when i mounted. He wouldn't steer, Or trot. I was only ten so i had no idea what to do.

When Deejay and Clover finally moved in to the barn behind out house, He got worse. I gave up. I gave up on my only horse.

Those days went by slow. Deejay would sit in the pasture. I would lunge him every now and then. But i didn't ride him.

I don't know how long after it was when i decided to free lunge him over jumps. He was perfect. After that, I started riding him again. I rode him in a blue Parelli rope halter, a Crosby saddle, black clip on reins and a purple saddle pad.
I would trot around in out small so called "riding ring" which was an oval about the size of a class room with two jumps that where about five strides apart.

I began by jumping cross rails. Lets just say cross rails were not so fun. most the tim he would ram into them. Thats when i upgraded to a two foot vertical. He would barely jump them but back then i didn't know any better, so i thought it was amazing. Every day i would go out side, lunge Deejay for about five minutes to gain his trust, then I would get on and jump him a couple of times. That would always make my day.

One of the funny memories was the time I tried to ride Deejay with no tack. No halter, saddle or anything. Just a rope around his neck. I lead him in the round pen, placed a barrel beside him I could mount with, and hopped on. By the time I got on I felt something missing. The lead rope around his neck.

By the time i realized this, he was already cantering to the other side of the round pen. Scared because he didn't know what to do. What did I do? I held on for dear life with my legs and had a death grip on his mane. "Woah. Woah. WOAH!" I yelled. Finally he slowed to a trot and I hoped off as fast as possible. When my feet hit the ground, I was still holding on to his mane which made me fall.

I laid down on the ground, still in shock. Deejay trotted over to me and laid his muzzle on me. I laughed nervously. Trying to stay calm. This is the reason I am absolutely terrified to ride bareback. The only time after that I rode bareback was when i had to ride bareback at camp. My trainer had to lead me around the arena.

Summer of 2010 was when the real training started. We started bending lines, mini courses, and we would jump 2'6 and 2'9 daily. Those days where the best. My favorite was riding with my ipod. I loved riding to music. Like in a movie.

That summer was when me and Deejay made out jumping record. We jumped three foot. He sailed over it like it was nothing. Thats what i love about Deejay, When you do new things, He will be all for it. Sometimes a couple of refusals every now and then but besides that he's perfect.

Winter of twenty ten. DeeJay was trotting funny. Like he was hurt. I know when he is hurt. He tries not to show it but you can see it in his eyes. He was in pain.

The vet couldn't find anything wrong but i self diagnosed him with lameness. I didn't ride my baby boy for a month. I thought it would be best for the both of us. Maybe it was but i swear i thought those days would never end.

January of twenty eleven. I rode Deejay. It was perfect. I only jumped two foot stuff, i wanted to build his strength back. I trotted him over a pole but he wanted to canter over it. He HATES cantering. But he wanted to. I loved it. He jumped like he always did. He tried to rush but i kept him calm.

The moment was like a movie. I smiled the whole entire time. When we got back to the barn I un-tacked him, put his blanket on him and gave him a candy cane, his favorite treat. I hugged his neck and let him go in the pasture. He stood at the gait until i was out of site.
Our journey still continues on. He will always be my baby boy. He changed my life and i changed him. I gave him a second chance of life and he gave me a best friend.
I love you, Deejay Ricky.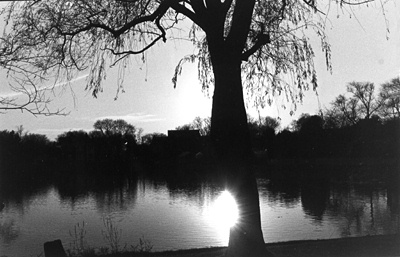 © Chuck K., Marblehead, MA