Like Her
January 30, 2011
My mother always warned me I'd end up like this.

Like her.

The saying—"like mother, like daughter"—mocks my dreams day and night.

She used to tell me, "Don't get too close to the edge, honey. Don't pull the covers over your face. Don't touch the razor, just use it. Don't jump, stand still. It's better safe, than sorry. I'm sorry, sweet heart. Don't cry. Never cry."

She was only trying to protect me from being hurt or hurting myself. She didn't want to see me fail.

Like her.

A buzz, a beep, a sickening suction like opening an air-tight container…. the hydraulic glass doors slide open. I step through to the other side—the side that's supposed to protect me like my mother couldn't.

My room is white and cold with hard surfaces and thin sheets and gowns. I feel the still air chill my legs and back as I shuffle in and sit just on the other side of the door, nose nearly touching the glass. The floor bruises my bones from ankle to knee to tail. It's cold, but I wait for the numbness. I often wonder if the building were set ablaze with fire and the doors came open with their sickening suction, how many of us would stay in our rooms and wait for the warmth? My toes tingle at the mention of fire.

As I stare, not at what's outside the door, but at the door itself, I think of my hatred for this door. I despise this door with its deceiving clarity and a stubbornness so potent that it refuses to give as much as a reflection. It's so smooth and clear and invites me to step through it, but it lies. When one gets close enough they can see the thin wires crisscrossed inside it. Even if I broke through the glass I wouldn't be free.

Now, where was I?

Oh yes, 1013.

I began counting the wire squares where I left off. I made it all the way to 2000 before another patient, returning to her room across the way, interrupted me.

She sat down like me. Or was I like her?

It didn't matter.

This was the only mirror I owned.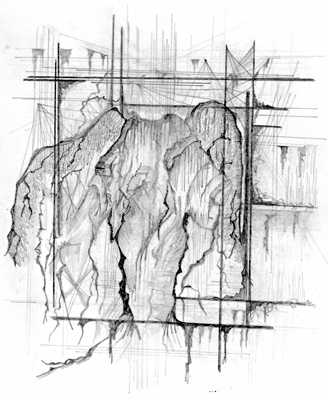 © Alexander G., Whitman, MA