Perfect Life
January 29, 2011
"I love you." I whisper, for perhaps the millionth time.

"I love you too." He whispers back, touching his forehead against mine "But I have to go. If I don't, I could lose my job, and right now that's the last thing we need. Besides, the kids will be up soon, and the day has got to start sooner or later." He kisses my forehead and goes to get dressed, leaving me thinking about the days before we had kids. The days before we were married. The days when he would stand outside of my window, waiting for me to be ready. Even back then, I could never be ready on time, even when we were sneaking out. I had to look perfect for him.

Nearly every night, just before midnight, he would sneak out of his house and run up the hill to mine, tapping on my window to let me know he was there. He'd help me climb out of the window, and we'd head down to the lake or sometimes just over my fence. We'd hold hands and talk about the future. Our future. We talked for hours on end about pointless things, people thought we were crazy. How could we spend all day with each other, then our nights? How did we not get sick of one another? Even now, 20 years later, I still say the same thing. We loved each other, simple as that.

Not that kind where after two days we said we loved each other. That's not love. That's infatuation. This…this was real. I really would have done anything for him, and him for me. We were a married couple the moment we met.


He walks out of the closet, buttoning up his white dress shirt. "Sweetheart, you need to get dressed." We hear the sound of the bathroom door down the hall being closed. "I'd say Alex is up."

I smile and pull my thoughts out of the past and my body off of the bed. I head over to the closet he just emerged from, grabbing a pair of dark wash jeans and a white button down blouse, subconsciously matching my husband. In the bathroom, I dress and apply light makeup, my thoughts back in the past, when he proposed.

It was one of those nights when we snuck out, this time to the beach a mile away. We laid there in the sand talking about what we thought the future would be like after we graduated high school.

"I think both of our futures will be great," he said, sitting up and twisting his whole body in my direction. He pulled s small box out of his pocket. "As long as we're together." He opened the box, revealing a ring. "Will you marry me?"

"Of course!" I screamed, essentially tackling him. I don't remember how many times I kissed him that night, looking at the ring on my finger, then him.

I smiled remembering that night. I had been so happy. Still am.


"MOMMY! Alex stole my Barbie!" I hear outside the door. I open it, revealing my four-year-old daughter.

"Hear, Sweetie, Mommy will get your Barbie back." I say, picking her up.

"Alex!" I holler, heading downstairs. "Gove her her Barbie back right now!"

My husband comes around the corner, holding the Barbie in question. "Got it." He says, grinning. He hands it to our girl, and kisses me softly. "I'll see you tonight. I love you." He smiles and turns his eyes to the girl in my arms "You too!" he says in a silly voice, kissing the top of her head. "But especially you." He kisses me again.

"Bye Daddy!" I say, waving my daughter's arm.

"Love you!" he calls over his shoulder.

"Love you too." I call back, smiling.

I must have the perfect life.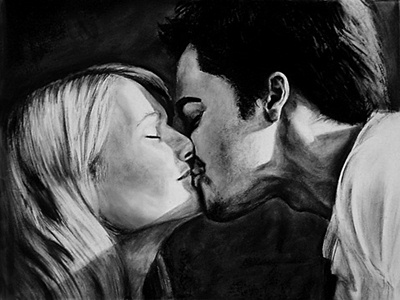 © Lauren R., Marshfield, MA