Land Among the Stars
January 27, 2011
How is life measured? Wealth? Careers? Material items? For many of us, yes is often the answer to one or more of the three. But who are we to measure not only our lives but the lives of others?
Why do we get so caught up in judging the lives of others that we neglect own own? Give so much time to the improvement of yourself you have no time to criticize others. Life is all about flaws and imperfection, but today's society convinces many otherwise.

We are taught to think the quality of one's life is only exceeding when money, top jobs, and expensive "toys" are brought into play. We believe that without these things we do not lead a complete and fulfilling life. I am here to convince you otherwise.

Life never was, is or will be measure by salary or corporate jobs with fancy coffee cups and printed stationary. Life is not measured by perfection or popularity. Why is society controlling human minds everywhere into believing these scams?

Life is messy, harsh, sarcastic, and chaotic. It's personal, passionate, ruff, and crazy. Life is beautiful. Those that will disagree have never truly "stopped to smell the roses." Notice the falling snow, the coffee aroma, the laughter of children, and colors of the sunset. Take out time to enjoy life and all it has to offer. It's too short not to. Begin doing what you want now! Time is so precious and melting like a snowflake in the palm of your hand. So, you have always wanted to visit Europe? Go! Run a marathon? Do it! Play guitar? Learn! What have you got to lose? Too few people realize time flying is by in this outrageous life we lead. No one should settle for satisfactory or mediocre. Instead, shoot for incredible and fascinating. Live in the moment. Be bold. Take chances. Live you life out loud!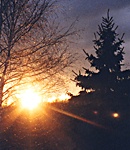 © Christy S., Germantown, NY