From cuts to crosses
January 20, 2011
"I don't how it happened. I don't why it happened. All I know is it was a major relief. It was like all my worries were pouring out of me, along with my blood. I would watch the blade slide across my wrist and the deep maroon run down my skin."
This was the first time I'd actually opened up in therapy. My therapist, Steve, seemed like an understanding guy, but I didn't need a therapist. He looked at me through his horn rimmed glasses. His face expressed concern, but I had trust issues for a long time and it was hard enough telling him about cutting.
"Hilary," Steve started, "That's very serious, but you have shown major improvement by sharing that. Does anything else bother you?"
I looked at him with anger in my eyes. I was so tired of people walking on eggshells around me.
"Well Steve, to tell you the truth, there are a lot of things that bother me. The reason I started cutting for instance. You don't even know why I started cutting.... I was cornered by two guys in an alley and wouldn't you know it, they decided to take a look at me and see how fragile I was. No, they didn't rape me. They hit, kicked, and pounded me."
Steve had shock written all over his face and didn't show any signs of interrupting me.
"You know what else bothers me? How about the fact that my Mama forced me to take come see you even though I accepted Christ, I don't cut anymore, and I pray to God for help with my trust issues and to forgive the guys that attacked me. Are you getting every word of this or do I need to talk slower?"
Steve's face gave me all the answers I needed to know. I left and drove home.
On the way home I hoped I could get into my house without an inspection from Mommy Dearest.
No such luck. As soon as I came through the door Mama started interrogation.
"Hilary," she started, "It's only five o'clock. What are you doing home so early? How did the session go? Did you even talk to him?"
"Mama," I interrupted, "Slow down and take a breath."
She paused but then started up again. "Why are you home so early?"
Here we go again.
I took a deep breath to steady myself. "I quit." She blinked.
"What did you say," she asked dumbly.
"I quit."
"That's what I thought you said.... Why? I mean, I thought you understood why I sent you there."
"Mama," I started, "YOU don't understand. I told you that I can work through my problems without a therapist. I pray all the time and I-,"
"I get it! You pray, but sometimes God is telling you to get some help and you need help," she pushed.
"You're not there when I pray! You don't know what God is telling me and I AM getting help! God is more than enough help. He understands my problems and has the perfect solution and it's not therapy!.... I just wish you could understand that."
I walked outside leaving her in the dust. I walked around my background for what seemed like hours. Finally my Mama came outside with the softest look on her face I've seen in a while.
"I'm sorry," she said, "I shouldn't have made you go to those sessions and I DEFINATLEY should not have doubted God."
I couldn't believe she was actually admitting she was wrong. Instead of rubbing it in her face or holding a grudge towards her, I gave her a hug, we walked inside, and continued with our lives.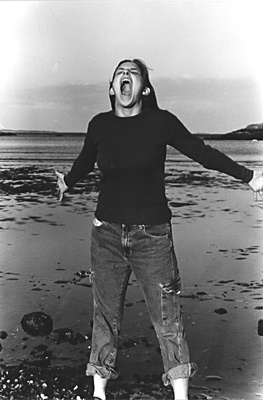 © Jessica M., Marblehead, MA