Never Truly Gone
January 19, 2011
I was seven years old when the word Cancer was brought into my life, and to say I didn't understand is wrong; I did. My grandfather had been diagnosed with pancreatic cancer, and I understood that he was sick. At that point in my life I thought that the adults in my life were invincible, that nothing bad could truly happen; I was proved wrong.
Through the duration of my Granddaddy's diagnosis and treatments I hadn't seen him much, even though my mother was there most of the time. Even at the tender age of seven I knew my Granddaddy was dying and there was truly nothing I could do, not for the lack of trying. I had wished on every star in the sky, made a wish bone wish and prayed every night yet he didn't get any better. He had become weaker after his chemo and forced to use a cane, seeing him in the hospital though had been the last straw, he was too weak and I was so used to him being strong.

On November 30, 2001, exactly one week before my eighth birthday my grandfather died. What you are about to read is my last time ever seeing him and the days that follow.
November 27, 2001-five PM

My mom knew what was coming, knowing that he could leave us at any minute she had insisted that I go and see him . . . against my protests. The drive to my grandparent's house was filled with a cold, sad silence. My mom parked our family's mini-van and I got out. We walked through the garage into the house. We passed my grandmother who sat at the kitchen table a mug of coffee in her hands. She gave me a kiss and a sad smile, her eyes red from crying and my mom took my hand and led me to my grandparent's bedroom. The room was dimly lit and my grandfather lay in a hospital bed to the left of the room, he wasn't moving. I felt a lump in my throat as I took a shaky step forward. My mom stayed behind me, guiding me.
I stepped forward towards the bed and looked at him, he wasn't able to stand or even sit up he just laid there and I stayed silent. "I brought her for you daddy." My mom said from behind me, he said nothing. I stepped forward and took his hand, it was so soft, unlike the calloused skin I was used to. "Hi." I said in a small voice. He still said nothing I continued holding his hand until my mom said it was time to go. I whispered "I love you." to him and kissed his cheek and my mom and I began walking out of the room.
A small noise caught our attention, we turned to see him holding out his hand and mumbling "Don't go." So we didn't we went back in and I held his hand until he fell asleep. That was the last time I saw him.
My grandfather had been part of the US Navy since he was seventeen; he fought in World War Two and retired Lieutenant Commander.

November 30, 2001

My dad's parents had come to babysit my younger sister, brother and myself while my dad went to be with my mom at my Grandparent's house. As my dad was about to walk out the door the phone rang, he answered and walked out the door without an explanation. I didn't have a chance to ask a question until later that night when I was going to bed and my grandmother was tucking me in. "He's gone isn't he?" I asked

My grandmother looked at me "That isn't for me to tell you, your parents will talk to you in the morning, but I can tell you that he's not in pain anymore." She kissed me goodnight and left my room.
December 1, 2001

I came downstairs and found my parents in our living room, a place we barley ever spend time in. My mom was holding my little brother, who was one almost two at the time, and my little sister sat beside my dad. It was then and there that my parents told me that my Granddaddy was dead, at the word dead my mom burst into tears and my dad pulled me into a hug and I cried, I cried a lot in the days that followed.

After my parents told me the news we ate a silent breakfast, got dressed and went to my grandparent's house. My grandmother said nothing, she was on auto pilot but I could see the tears that fell and streamed down her face. The house was quiet, something I wasn't used to with two small siblings and older rambunctious male cousins.

I went outside to and my uncle was crying even now that memory sticks out, how he put his head in his hands and kept muttering "My Daddy's gone, he's gone." He didn't see me and I doubt he knows that I saw him that day.
December 2, 2001

That night after my little brother and sister had gone to bed my parents brought me into their room. We remained silent and just laid on the bed together comforted by our each other's presence and the knowledge that we all shared the same grief at different levels.

My parents gave me a choice that night on whether or not I wanted to attend the funeral, I chose not to. So I stayed home and friends of the family watched over my siblings and me. We went to my grandparent's house afterwards where people hugged and kissed me and gave their condolences to my grandmother and mother.

November 30, 2010

Today marks the ninth year of my grandfather's death. My grandmother, his wife, of fifty four years joined him in early April of 2009 and a fresh hurt has settled over my family and is only now starting to disappear. With her death I have been given his wedding ring which she wore around her neck since the day he died and now I do the same, keeping them both close to my heart

I don't remember much about him now, I forget what he sounded like and sometimes I forget what he looked like but I still have my memories; like how he drove me to school and brought my dog in for show and tell and how he would make chocolate milk like no one else could, how he watched TV with me and watched over me and how he used to say my name spelled trouble, how at Christmas we would sit around the tree and run the toy train sets and overall just how much he did love me. I love him and remember him, and as long as I do that he's never truly gone.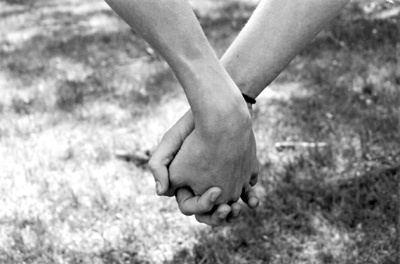 © Alexa T., Pompton Plains, NJ