The Chains that Bind Me
January 16, 2011
Sometimes I wish to be a little girl again. Prancing around the backyard with no worry in the world. I thought I was beautiful and free. I was beautiful and free! I long to go back to those days of being free.
For as long as I can remember I have been watching my weight and battled the yearn to be skin and bones. I have suffered from anorexia and bulimia going on four years now and I have starved my body dry. Fifteen years old and at a stable 107 pounds. Stable. Right. When The Monster lives in you, 107 pounds is ugly and fat. When I look in the mirror I want to scream. Throw my brush at it and shatter it into a million tiny pieces. How did I get like this?! Everyone around me is trying to get through to me. All they're really doing is whispering lies.
You're beautiful. You're so skinny. You're the kindest person I've ever met.
Sadly, The Monster speaks louder than my loved ones words and feeds me the truth.
You're fat. You're ugly. Why are you so mean? Worthless. Worthless. You deserve nothing.
I try and fight The Monster but somehow, it always wins. As I sit at the lunch table and eat my baked potato I feel the fat running through my veins. The Monster will not be happy. I must take action to get rid of this sin. I quickly get up from the table and rush to the bathroom, open up the stall, and fall on my knees over the porcelain bowl. I'm so scared, no, I'm horrified, but what does that matter? I can't take the risk of gaining a pound. An ounce. Anything. I take my index finger and stick it as far down my throat as I can. My eyes water and tears run down my cheeks. I gag, but nothing comes up. I try again and this time my throat burns and I know I am now safe. I leave the bathroom satisfied. I satisfied Beauty; I satisfied The Monster.
I've learned the hard way that watching your weight is an obsession; it takes dedication and most of your time. My mother always told me that if I didn't like something to change it. That's exactly what I'm here to tell you about, about how I changed my weight into pure lovely bones. Weight watching is my favorite thing, my pass-time, my joy, my passion; I guess you could even say it's my true hatred. I know I'm contradicting myself, but hey, that's the price you pay when you give yourself to The Monster. You have two voices; your own and Beauty's. The Monster has two sides; a mean side that causes you not to eat and not to live. Then she has a beautiful side. The attractive side. The part of The Monster that makes you want to be thin. But the thing is, Beauty really isn't so beautiful. All Beauty holds true to be is a Monster.

It took me three years to realize that I was sick. Once I saw the Monsters true appearance, I sought out and I beat The Monster. Or so I thought.
My weight slowly began to elevate and I was getting healthy once again. Still, I heard Beauty whispering to me in the back of my mind. She was creeping up on me. Now, as a freshman in High School, The Monster was making its way back into my life. At first, it was just little things. I'd throw away part of a meal or I'd just skip one entirely. Then, it escalated once again. I started to throw up my food; surrendering to a powerless but evil source. I knew the cost of bulimia and the risks that came with it, so after a week of being at my knees I started to plan. Plan how I was going to weigh eighty pounds by my birthday. Plan how I was going to be beautiful. Plan how everyone would love me because I was skinny. My weight fluctuated for weeks but I never gave up. I was determined to loose. Loose. Loose. Loose. Thoughts tear through my head like a tempest, never pausing for even sleep. Thoughts of calories. Thoughts of food. Beauty had reunited with Beast, with The Monster, once more. I could go hours, even days, without even the slightest urge to put food in my mouth. Just the sight of it began to repulse me. I was going to achieve my goal of eighty pounds. Eighty pounds of sheer and lovely bones. A body that could walk in the snow and leave no tracks. My thoughts were interrupted by a soft touch on my shoulder. A dear friend of mine looked at me with big green inquisitive eyes. She knew. She had to. I looked down at my frail body, the lifeless skin and the heartache I felt. Tears began to stream down my face, heavy and warm. Realization hit me then and there. Beauty, or should I say The Monster, had wrapped her foul little hands around my life once again. I had to break free. Today, I have cut myself free from Beauty's strings. She no longer controls me. She comes around every now and then, haunting me with the memories of my past. I fall back in her trap, but only for a little while. Now I have the strength to rise above the not so beautiful Beauty. My fight will be long and hard, but I know I will never give up. I have too many wonderful souls to live for. Too many new memories to make. As I wave a farewell to Beauty, I know she is scared. She knows that she has lost me. As I venture on and continue fighting, I hope I can find the beauty that I see in everyone but myself. The type of beauty that catches your eyes. Not because of how they look or how they dress, but simply due to the fact that they are beautiful inside. And that makes them beautiful inside and out. Beauty whispers a soft goodbye, for she is now weak. Weak, like she made me for so long. I will fight hard and break out of The Monster's chains. I will beat this. The chains that bind me will be no more and I will be free. Free, where we want to be. Free, where I will be. Free and beautiful. I hope to see the day when The Monster is no more and when Beauty is more than skin deep. When eating disorders are history.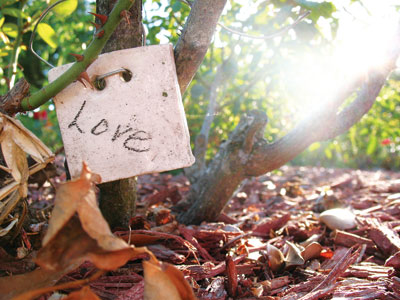 © Danielle L., League City, TX