A Whole New World
January 13, 2011
My name is Jamie Lewandowski and this is my story.

My parents had always done their best to provide for our family, but that had become nearly impossible. After hurricane Tosh struck, everything went to ruins.

It was the 20th hurricane of the year in 2012, and we were not insured. With our house destroyed, and nowhere to go, we were forced to live in a tent. Those two years were the hardest I have ever had to endure.

Still in debt $120,000, we were in dire need of help. Before, money was never abundant, but we managed to get by. But now, everyday we were scared of what would happen next, especially lately, what with another hurricane, hurricane Simon, lurking off coast.
My mother had been working her butt off lately, full shifts and through the weekends. Overtime was her middle name. With three children, Sarah, Jessie and I, and four pets to support she had no choice. Two great Danes, a basset hound, and a plump feline were a little excessive for our predicament. But as you know, family never gets left behind.

My father felt horrible, but he still couldn't find a job with the current state of the economy. Losing his last job due to an injury from the hurricane, he was lucky to be drawing unemployment.

Friends and family were feeling our pain, but had money problems of their own. But they had found a way to help. I bet you could imagine how excited our family was when we found Ty Pennington, the host of extreme home makeover, standing at our front door. It was a dream coming true; he really understood what we were going through, and wanted to help. Ty's crew had told us not to worry about a single aspect of the transformation and that they had big plans for our house, or, should I say, new house.

Eduardo had chosen to construct my room, which was a match made in heaven since he loved outdoor scenery. By chance, when he asked what I was interested in all I could think was "I have jungle fever". I left him with the knowledge of me liking the wilderness and being intrigued with the past. To him, this was pure inspiration, which excited me.
Before we knew it, we were on our way to beautiful Hawaii, because staying and watching the renovation was out of the question. Being sent away for the week was a tradition, and how could we reject tradition? Spa days with Mom, sightseeing with Dad, and tons of swimming with my sisters; we couldn't have asked for a better vacation. Everyone was so accommodating, and the scenery was so gorgeous, but the eagerness to see our new home was butchering us. We didn't know what to expect.

Getting the phone call at the end of the week was life changing, but it didn't even come close to the intenseness felt after yelling "MOVE!... THAT!... BUS!!!!!!", to the bus driver whose vehicle was obstructing our view of the house.
"Oh my gosh!"

Tears were flowing, and the mood was elation! In front of our family was a gorgeous two story house with an astounding front and side yard. They had even given us a pool! I think I speak for all of us when I say my legs felt as heavy as cinder blocks. I couldn't bring myself to move from that spot; just looking at the house was outstanding. But Ty decided it was time to enter our new worry free life, our very own "hakuna matata".

Venturing through the house just blew me away. Marble countertops, bamboo floors, a giant majestic fireplace, all new technology was all included, and with such good taste in modern décor. Our new home was stunning. Walking up the rounding staircase, my sister's rooms were first to be seen. Barbie and then teen titans decorations cluttered each of their rooms. The master bedroom was next. Up-to-date and romantic, my parents couldn't have asked for anything more their style. Finally, I came upon my room. Oh jeez…

My door was enormous. It was gorgeous, painted a deep rural green. The handle was dark brown and carved like a branch, which I thought, was very clever. Smooth to the touch, the handle felt heartwarming. But I couldn't stand the anticipation anymore; I needed to walk in.

Almost seeming as if I was sneaking in, I stumbled upon a whole new era. I had traveled through time and space in no more than two or three steps, and I found myself now to be in a prehistoric, Triassic period. Since these parts were unknown to me, I decided to go on an adventure; an expedition, if you will.

The first thing I noticed were cute little animals, unmoving and plush. The exotic smell of rainfall Febreze filled the air. Even in the midst of all the beauty, like a Jedi master I noticed a disturbance in the force. I am not alone in this territory; monsters are near. Like an explorer in my own realm, I investigate. I look in every direction. "Ahhhhhhh!" My shrill pierced the air.

Dinosaurs were everywhere! A giant tyrannosaurus rex! Velociraptors galore! And even brontosauruses! But wait, what is this? They don't want to eat me; they just want to go on with their own business as murals and sculptures in my little community.

Noticing this, I began to indulge my senses. Feeling the lush, green carpet under my toes, and spotting a flowered meadow atop an African rug not too far away, I began hearing sounds in the distance. A melody of rainfall and chirping birds was flowing through my mind. And then I saw the sign.

On a wall of brush it was just sitting there. I was both intrigued and curious. It stated:
"In here you're never alone.
this is your own world, and
help is always nearby, lying
with friends and family. I wish
you the best of luck."
Eduardo

The weather was cool and light, and I was touched. Tears in my eyes, I was startled by my mom's loving embrace. All of a sudden I broke down. She understood what I was going through and asked,
"Are you happy sweetheart?"
"I'm finally home" is all I could mutter.

She held me close as we were walking outside. Almost everyone was crying now, and hugs were being passed left and right. I could never even come close to being able to fully thank Ty and his team. But at least they left knowing that nothing could describe my happiness. They had done their job, and a weight had been lifted off my family's shoulder.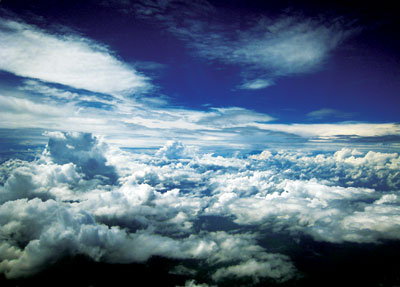 © Jacob W., Oklahoma City, OK