Doodle
January 10, 2011
Suzy stood at her bus stop waiting for her bus as a usual. The cold temperature made her cheeks turn rosy pink. The air widened her brown curls around and around. Suzy grew up in the small town of Akron, Ohio. She was used to this kind of weather, but the tears that ran down her face weren't caused by the weather, Suzy was upset that her art piece she worked so hard on had been rejected by the local art gallery.
The bus ride to school was a complete blur to Suzy. She kept trying to understand why her art work hadn't been chosen. She thought to herself, "I can't be that bad, can I?"
Suzy was one of the brightest, most talented students in her school. She always carried a big gleaming smile on her face. So as soon as she stepped in the cafeteria all her friends noticed something was wrong Suzy didn't have that smile on her face. They crowded her like a swarm of vultures, asking all sorts of questions. She was grateful that her friends were worried about her, but she felt she needed time for herself. Suzy just nodded and walked past her friends.
For once Suzy had managed to keep her art notebook shut. Although she urged to add quick drawings in it, but she knew it was a bad idea. She'd spot the piece that had been rejected. Just thinking of seeing the piece in her notebook made her stomach flip. While she sat in her third period class, she decided that worst part was over. She turned her notebook over and opened it to the last page where she doodled. She started to feel guilty for not giving her friends an explanation; it wasn't their fault.
Suzy was so caught up with her doodling; she hadn't noticed her English teacher, Ms. Hatchet standing over her. "Do you not no any better, Suzy?" she said in thick raspy voice. Suzy looked up in shock; she spoke in a trembling voice, "I'm sorry, I truly am. I just got a bit carried away, that's all." Ms. Hatchet picked up Suzy's notebook without listening to any excuse. Suzy's heart sank. "What a great day…" she thought.
While Suzy tried to keep her mind busy for the rest of the period, she caught a glimpse of Ms. Hatchet flipping through her notebook she found that really odd. She tried to ignore that fact as best as possible. Before the class period was over, Ms. Hatchet called Suzy over to her desk. "Suzy, I am completely impressed with your art skills. Please next time do this on your time." Suzy nodded and walked back to her seat, notebook in hand. "Oh! Suzy another thing, there's an art competition coming up soon, are you interested?" Suzy knew she could once more be rejected, but she couldn't afford to deny an opportunity. "Really? Err, Yes!"
That night Suzy laid in bed thinking. She may have been rejected at the art gallery, but who knows maybe she'd win the competition. Suzy was good; and she knew it. It was just a matter of time before she'd be a recognized artist.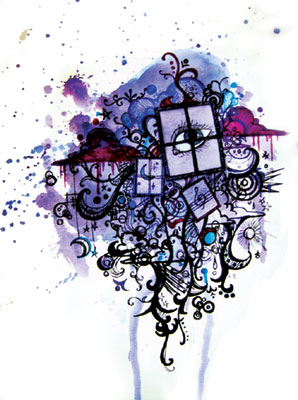 © Savannah R., Stoneville, TX