August and April
January 4, 2011
August pushed through her down comforter, feeling the already risen sun drench her bare skin. She smacked the large button on her alarm clock to eliminate the only noise in her 3-story Florida home.

Her parents weren't there, but then again, they never were. Mrs. Clayton was probably shopping, Mr. Clayton most likely golfing.

August carefully stepped from the shower, wet strands of dark hair sticking to her skin. She wiped one hand across the foggy mirror, revealing an exhausted, troubled, otherwise gorgeous young girl. Leaning in closer to the girl, August touched dark rings under her eyes, rings that never erased, no matter how much sleep she got. One lock of hair stuck to her set of full lips, but she didn't move it, didn't possess the energy to.

Dressing in a t-shirt from the days she and April had played volleyball, August slipped out of the house and into the fine leather seats of her explorer.

Going in and out of the hospital was like hitting a brick wall. Inside- an air conditioned wave spilling over her. Outside- a muggy smack in the face. Goosebumps rose on her arms from the cool air, and August gave a stiff-handed wave to Char, the receptionist. Char smiled a pitiful smile.

Riding the elevator to April's floor always seemed to take hours. With every jolt of the moving elevator, August feared she might get sick.

Finally within room 302, August gripped April's hand, telling her how their dog Sergeant had gotten his shots, and of the burn on her hand from the light bulb. She picked the chipped nail polish off April's nails and sang her her favorite song. She adjusted April's feeding tube, thinking how people could probably tell them apart now, with April's sunken in face.

She told her of their parents trip to Cabo the following summer, and how the girls hadn't even been invited-how rude. August laughed the laugh that only happened during visiting hours, knowing her sister was laughing too, despite what the doctor's said. Their 17th birthday was the following Sunday, and August questioned April about what she wanted, calling her stubborn and chuckling softly.

At 10 p.m., about 12 hours after she'd arrived at the hospital, August was ushered out as usual, with the promise that she could return the next day. She arrived home to an empty house- her parents were probably at a cocktail party.

August knew something was wrong when she waved at Char and got only a slow-moving, confused wave back. Her pace quickening, she rushed into April's room- it was empty.

August's face turned bright red, knuckles white as she gripped the door handle. She shrugged the hand off her shoulder, the hand that belonged to Char. Char informed her that her parents thought this would be for the best, not to draw out the pain anymore. The next few minutes were just a blur, a mixed up sequence of words floating through August's head. "4 months... moving on…I thought they would have told you…"

August's heart rate quickened as she pulled into the empty driveway, leaving her car door ajar. She took the stairs to the second floor two at a time, her long legs stretching with ease.

She took one last look at the sick person in the mirror. In her mind, there was only half of a person. Then, with no hesitation, she took several bottles from the medicine cabinet and began popping pills like the skittles she and April used to eat.

Her eyes closed as her head hit April's pillow, smiling and laughing as the dark began to light up; as her and April ran down a hill, jumping in a lake with all of their clothes on. They didn't resurface, but August liked it better that way.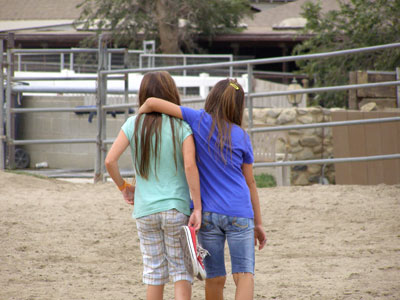 © Austin K., Studio City, CA