My Mom Makes the Best Fry Bread
January 6, 2011
There are flour, eggs and cooking oil in my shopping basket. When I get home I'll pour them into a bowl, sink my fingers down to the very bottom and mold the separate parts into a single rising ball. I might give the kids a taste of the raw dough as they run through the kitchen on their way out of the house into the yard and out into the world, the slick mouthful sliding past their tongues and down into their bellies. They'll run bare-footed through the crab grass with that piece of warmth in their stomachs collecting the sunlight. As I watch from the kitchen window, their sparks of laughter intermingle with the cackling of fry bread oil.
To this song, the transformation begins. In a ritual of sunlight and laughter, boys become men, rough, rowdy men with leathery skin thick from blood, sweat, and tears. The seed I have planted in them grows, and the girls, in bewildered fear of unseen forces, cling to each other. A phenomenon both age-old and new-born, my children feel the contradiction of inside and outside. They respond in kind with confusion, and anger, and love. They will struggle as I have, but still they will feel the powwow beat in their feat, the stories on their tongues, and the fry bread on their hands. Continued existence, survival, is the name of the game. I give them this ultimate gift. I carry the life of the tribe on my back. It is in the kitchen that life, the tribe, and tradition are sustained.
When dinner is ready, I will stand by the stove and watch as they eat. We speak little, for we all know that this is a sacred ritual, another one of nature's mysterious cycles. When they are full and have left the table, I will finally sit, having eaten nothing, and breathe in the life in the air.
I think of all off this as I roll my cart down the supermarket aisle.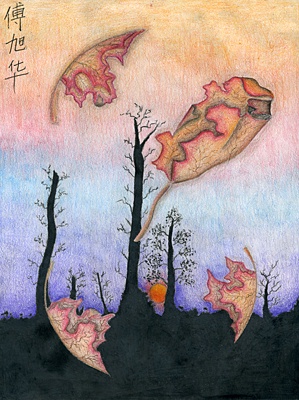 © Becky F., Sacramento, CA