This Christmas
January 2, 2011
Christmas, what a merry season, I thought as I looked into the busy streets crammed with happy people.

"Here you go, have a jolly holiday!" even the clerk behind the cash register at the bus station who has to work on Christmas Day was cheerful.

I moved my facial muscle so it'll look like a smile, grabbed the bag with Christmas decoration, and left the store to catch the bus.

Last year, same time, we were roaming around the city just like everyone else, wearing that content smile.
Last year, also the last time that we did it together.

Sitting at the back of the bus, I feel like crying, though no tear came out. It was as if they were holding themselves back, without me even trying; just like the way you ruined my Christmas.

The sky just turned grayer as I get off the bus. There were no snows this year, only plenty of rain.

With all the Christmas decorations, the graveyard did not feel creepy. Most of all, you were there. Wherever you are present, I have no fear.

I managed to dig a hole about 3 feet down, right next to the tombstone, and placed all the memories inside—photos, letters, gifts. Lastly, I placed the gloves on top of everything, and piled the dirt back with bare hand. I know you will not approve this, but that's the only way to leave everything, after I wash my hands.

See you later. I struggled to pronounce those syllables as I swallow back the "good bye", as I remembered that you hated Good Byes.

Tears flooded out at last, dropping on the loose dirt. I let it flow, for it'll be the last time. I promise.
Rain poured down at last, washing my hands and blend in with the tears.

As the bus turns a corner, driving out of the country, I didn't turn. I'm leaving you behind. I'm burying you in the deepest and softest place in the bottom of my heart, this Christmas.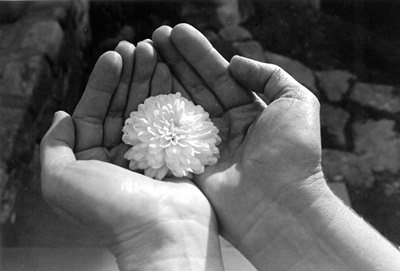 © Beth S., Marblehead, MA