Daddy Don't Go!
December 27, 2010
The sun is beginning to set around the orange skied valley. The sound of a nearby construction sight echoes through the graveyard. The graveyard, old and still aging. A tall black pointed fence surrounds the graves and memorials of the ones who have lost their lives.

Tina, a teenage girl sitting on a rustic wooden bench that stands in front of the grave sight with the name James Noel Jennings. Tears slowly fall off her face and gracefully land on James Noel Jennings' naval uniform that lie on Tina's lap.

James, a Navy Seal and a wonderful father of Tina. Born December 8th 1944 and passed away from renal and brain cancer on July 5th 1988.

As Tina sits on the rustic bench remembering times with her father she falls into this state of mind where every other sound around her fades. The sound of construction, ambulance sirens, and the sound of cars driving on the nearby street all fade quickly.

She feels an ice cold chill creep up her spine. The icy cold chill slowly turns into an almost unbearable blanket of ice that completely surrounds her. Normally she would be slightly creeped out by the unusual coldness that surrounded her. This time she wasn't. she felt more safe than anything.

She looks up from the naval uniform that lay on her lap and to her right she sees a faint figure that seems to be her father.

With a confused tone Tina quietly whispers, "Dad? Is that you? How is this possible?!"

In a soothing voice James replies with a soft, "I love you sweetie. Take care of your baby brother. I have to go now. Remember I'm always just a prayer away."

Slowly breaking into a hysterical cry she softly says, "Okay Daddy! I promise I will! I miss and love you! Please don't go…!"

After a moment of haunting silence she begins to come back to reality. The sound of loud machinery and hammers banging from the construction sight down the road slowly start to fade louder and louder back to normal. The siren from the ambulance comes screaming back into her hearing along with the sounds of cars on the street behind her.

She knows what needs to be done. Take care of her little brother Jamie and make sure he stays safe.

To this day Tina still prays to hear her Daddy's voice.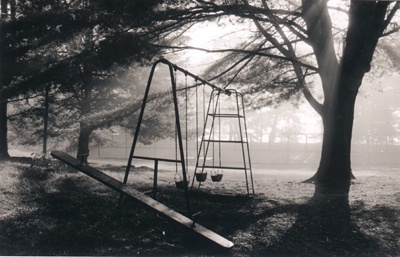 © Steve S., Marblehead, MA