Daddys lil boy
December 11, 2010
The past. The past,that contains so many lies, so much pain , and as I try to talk to you your shielding me out; afraid to trust me . Even if I'm not with you I can feel the pain in your words. You say you dont care but you know inside it's killing you . Despertly, I want to help you . I want you to know that I am here. I love you. I'm never going to hurt you so why push me away my dear? This isn't the first ive seen this but this is definiately the most blantant time. I understand why you dont like talking about it ,love.With the past comes the memories of him,the fights, the screaming , feeling so alone. I know what it feels like yet .. I cant put myself in your shoes.



It plays in my head like an old movie. Your in your room playing with you toys ; just a young boy . You hear the front door open than a harsh trading of words. You slowly open your door to see , who else ? Good ole dad. Hey he's home before midnight. Maybe momma wont cry tonight, but no. You see momma's face . Tears run down her pale fragile face. She's beautiful , shes young ,but her face is hidden by dull blonde hair and a thin layer of wrinkles. Pa slaps her and reality comes back, as harsh as it was before. Hes drunk ; that b****rd comes in smelling of Cheap whisky and booze, with lipstick on his colar. As you hide you hear the screams; tears run down ur face.Never will you forgive him. You begin to doze off ,when you hear the door slam. Hes gone.



He never leaves thou.He haunts you. You tell me you dont need him. Convince yourself you and mum are fine with out him. Let him f*** who he wants to. The sick man. You're shaking with anger . Let him hit me now . Let him pick on someone his own size, the b****rd. Oh if only you could see him again. You'd make him pay. No one touches mum. Your heart rate is going faster as you think about it. You want to kick his a** so badly ;show him the boy he wasnt there to raise. Show him the mother he abandon; forcing her to work two jobs to barely cover the monthly rent of the small one room apartment. Just one shot , you'd nail him in the jaw.


I see you now.. I see how u look at me when i call my dad an a**. I see the pain in your eyes. Pain running through you as you hold back the tears. We all see the little boy inside ; forced to become a man.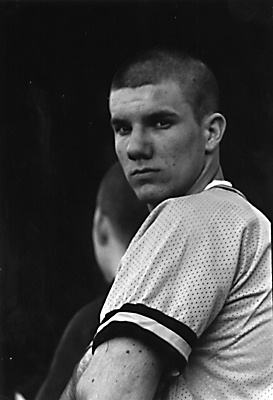 © Chris C., Milford, CT