The Deaf girl
December 6, 2010
"The audition for the fall school pay is on Friday! Sign up NOW!" read the daily bulletin on Woodshore High School library wall. Everyone in the school seemed enthusiastic towards it.

On the audition day, the drama teacher, Ms. Ralston and some seniors were waiting for the outstanding pre-actors. Each one of them prepared a short comedy line and showed their talents. When they went out of the room, some showed frustration and some showed huge smiles. When the audition was almost over for the day, a pale-faced girl with long curly hair entered the room. The seniors were waiting for her to speak, but she said nothing and just stood there like a wall.

"So, what have you got to show us?", asked Dominic, the student club leader.

"…"

The girl opened her backpack slowly and took out a piece of ripped paper and a small yellow pencil. She scribbled something down and gave it to the teacher. The teacher read it carefully and wrote something down and handed it back to the girl.

The reply to the girl's first secret message read, "OK… But you still have to show me something." However, the girl just stood there soundlessly and stared back at the teacher blankly. Dominic peeked at the reply and blurted,

"You aren't going to put her in the play, are you?"

"Well, I might." said Ms. Ralston, "Why not? She might have something to show us. We should give equal opportunities to everyone."

"What can she do in the play, though?

She didn't answer and handed a note that said, "There's one more day left for the audition to the girl. Practice anything you can and just bring your talents in. I know you've got something." The seniors' looks were as if this wasn't going the right way. They needed an explanation. It was the biggest event of the year to them, so they wanted it to be as perfect as possible.

"Ms. Ralston, I think it's going to take too much time to let her in. Why don't we just carry this play on without her?"

"Let's wait. She can have other talents rather than just acting. Or she can be in the orchestra or at the backstage. She doesn't have to act in the play, you know."

"I don't think she will be able to play any music or listen to any cues. We only have two months to practice till the real play! Won't it be difficult to communicate? We can't always write stuff on a piece of paper to communicate with her. That's just a waste of time. Besides, we have a whole lot of people applying for it. We can use any one of them instead of some girl who can't listen to what we're directing her to do."

"Yes, I understand what you're trying to say and I never said I'll put her in our play no matter what. I'm just trying to give her a chance, and even if I put her in the play, I'm more than willing to cut her if she does any harm to our group. So let's just wait for tomorrow to see what she brings to show us."

The dispute seemed to end for the moment and the first day of the audition ended successfully. The next audition day came by. Again, about at the same time as the day before, the deaf girl stepped into the room with a large black case. She stood in front of the group and took out her cello. She sat down on an empty chair. The teacher secretly hoped that she played her cello like a musician. Everyone became quiet and bended their ears towards her music. She set her cello up and took her bow to the cello strings, then started playing "Cello Suite No.1 Prelude" of Bach. Astonishingly a beautiful calm melody traveled through their ears and made the minds of the audience comfortable. Ms. Ralston stared at her satisfactorily and the others stared at her in awe.

"Ok, what do you say, Dominic? Do you still think we should leave her out of our musical?"

"Uh… I guess not. Fine, she can be in the orchestra."

He tried to seem reluctant but everyone else showed at least a bit of satisfaction. Moreover, the deaf girlbeamed and tried to show her gratefulness towards everyone with a huge smile.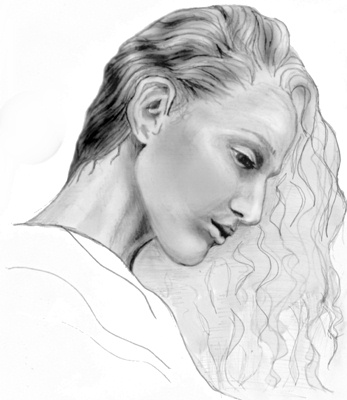 © Danielle H., Anchorage, AK