White Christmas
December 3, 2010
The Little Drummer Boy played in the background. Serious, almost somber. Its steady chorus of Rum-Bum-Bum-Bums seemed to compliment the drab scenery painted on my window. Out there was nothingness. Just a parking lot. And a gray-scarred sky looming ominously above it. I looked harder, trying to clarify whether that van was turning into the lot or not. It wasn't.

Sighing, I turned away from the hopeless world below me. There was a half-eaten candy cane lying neglected on the table next to me, its faded red stripes reminding me of the season I had enjoyed so much. Lifting it from its place, I longed to taste the sweet peppermint flavor it would release onto my tongue.

I twisted it between my fingers, about to pull the wrapper back a bit further, exposing the remaining piece. Something made me put it back though… something almost resentful.


Normal kids ask for presents this time of year; I ask for friends. They sit on Santa's lap and tell him what they want; I sit on a bed and tell them how I feel. Little girls and boys wait for a magic visit from reindeer and a sleigh each Christmas Eve; I wait for a potential visit from my family. Everyone dreams of a White Christmas. I dream of the day I an escape mine.

You see, my White Christmas isn't the sensation of crystals upon my nose, or the breath-taking view of a frosted forest. It's the thin white linen sheets on my elevated bed, the colorless hospital walls that envelope me, and the constant tubes that stretch from my arms to the IV beside my bed.

Every year I pray that it will end. That I will leave this place before I die. That I can see what my home looks like, walk to school, take ballet classes, wear real clothes… that I can forget all about the cancer that binds me to this room.

I want to get hugs from my Mommy because she loves me, not because she feels bad for me. I want Daddy to stop the treatment so he'll say more than, "We can't keep paying for this or we'll go broke." I want sister to play with me instead of begging to leave. I want God to bless me because I'm healthy… not just alive.

Not a Christmas has gone by that I haven't begged for a glimpse of what everyone else is lucky enough to have. My entire Christmas experience has been derived from re-runs of Miracle on 34th Street and Rudolph the Red-Nosed Reindeer.

The only gift I'd ever received was the typed cards sent out each year by the hospital board. Usually there was a small stuffed animal or toy to accompany it, but there weren't enough donations this year so they gave us candy canes instead.

I used to have another patient to spend Christmas with. The nurses had a program that moved people so they could share the holiday season with someone. I loved that. I'd made such great friends.

One year, when I was six, another little girl was placed in the bed beside me. I still remember her name… Maria. She used to tell me stories about little baby Jesus and how Mary gave birth to him on Christmas Eve even though she was a virgin. I asked what a virgin was… she didn't know either… and we'd talk about being Clara in the Nutcracker when we left the hospital. She'd tell me about how beautiful the mall was when it was decorated in lights and Christmas trees.

Maria had a very big family, but they came every day to talk with her and bring her balloons or flowers or a teddy bear. Mamá Anabela (as she told me to call her) would buy me little gifts as well. She'd sit by our bedsides and sing Christmas carols until we drifted off to sleep.

I began to know Maria's family better than my own, who only visited every two weeks for an hour or so.

I remember the day when Papá Marlon walked in with a little fake tree in his arms. He set it on the table and plugged it in. I marveled at its appearance; it was the first real Christmas tree I had ever seen. And though far different from those found in the Holiday cartoons and cards, it was miraculous all the same. I would gaze at its twinkling lights, smiling and humming familiar carols in my head.

But along came January, and with it, the parting of Maria. We cried the day they moved her back, the day the tree I had so desperately worshipped disappeared.

The Christmas I turned seven seemed to approach slower than ever, and by October I could barely contain my excitement. On December 1st, I sat straight in my bed, anxiously awaiting the moment when a new friend would walk through the door. As it creaked open I took a deep breath, about to burst from anticipation.

In walked the nurse, but I didn't see a patient behind her. "Molly?"

"Where's my roommate?" I asked humbly, straining to see if the person might be hidden behind her.

She sighed then talked slowly and deliberately. "I'm afraid you won't be able to have a roommate this year… the Doctor says the company won't be beneficial to your health. You need the rest, sweetie." She faked a smile, and tears welled in my eyes.

I wanted to yell, "I don't need rest! I need a friend!", but she left before I could manage to utter a word.

My family seemed to take the Doctor's words as an excuse not to visit. They lessened their trips to once a month. Soon they only stopped by to say hello. Maybe it was partly because they didn't have time… or because they were worried about getting too attached. After all, I wasn't going to live much longer.

But I did. And each year became lonelier and lonelier. When I was eight, they moved me out of the children's ward since I couldn't get out of bed to play with the toys anyway. The colorful ocean walls I had known all my life transformed into white-washed rectangles free of design and comfort.

By age nine I was undergoing chemo, trading in my Christmas candy for medication.

At ten, I learned to read, filling my days with hour upon hour of precious literature until my eyesight grew less clear and my head ached from reading. After a few months, the Doctor took away my books to prevent my eyesight from completely leaving me.

And at age eleven, I sit upon my bed, tears falling into my lap because it's dark out and my family hasn't pulled in yet. Somewhere down the hall a woman celebrates Christmas Eve with her husband. I can hear them laughing and telling old familiar Christmas tales. With a last sniffle, I lay down and stare at the candy cane on the table.

Silent Night is playing softly on the radio, and as the hospital gates close for overnight stay, I weep for the day when my White Christmas will be far behind me.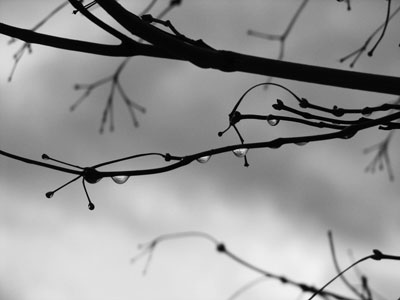 © Carly M., Hopedale, MA