Bon Voyage
November 25, 2010
The girl on the train gazed at the envelope clutched in her hands. She absentmindedly reached up to tuck back a stray hair, keeping her eyes fixed on the slender paper package all the while. The package was everything.

A boy sat behind the girl. He clamped his lips resolutely, as if this was the only way to keep them from saying the irreversible words. He knew that if he let them out now, there would be no possibility of returning things to the way they once were.

He just had to wait. He watched the girl in front of him, hands shaking slightly.

The girl had waited so many years for the contents of the envelope, and now that she had them she could hardly believe it. But here she was, finally on her way.

The train pulled itself past farms and towns and lonely houses in the middle of nowhere.
A muffled rhythm filled its carriages. Click-clack. Click-clack.

The girl didn't know that the boy was on the train. She hadn't noticed him sitting behind her, even though he had been there the entire journey. But he had noticed her. In fact, he hadn't notice much else.

Somewhere, a restless child gazed out through filmy yellow curtains. She saw the train whip steadily past. She wished that she were on that train, going far away.

The girl on the train was very beautiful. Maybe not everyone could see it, but the beauty was there.

The boy saw it, of course.

The girl herself did not. But that's the way things often are.

She might have seen it one day, if someone had been brave enough to show her.

Click-clack.


The child who had watched the train crept downstairs early the next morning. She tiptoed outside to get the newspaper. The air was cold and the sky was dark, but the child didn't mind. She snuck back inside silently, so as not to wake anyone.

The child sat down at the kitchen table and looked at the headline.

TRAIN CRASH, ALL PASSENGERS KILLED.
Last night, at roughly twelve o' clock, a train on its way to Newport collided with . . .

The child remembered that train. She stared at the letters for a long time.

Then she began to cry, quietly, for the passengers.

She didn't know why she was crying.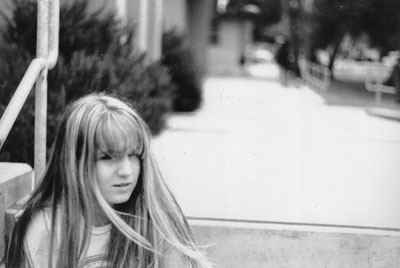 © Alyssa R., Pacific Grove, CA