A Tried Horse
November 23, 2010
There once was a girl who wanted a horse little did she know she'd end up with 37, 3 short of maximum capacity. That was at the 'Enter Here All Who Are Weary and He Shall Give You Rest' ranch named after a bible verse. Because this was no ordinary ranch it was a rescue for crazy or abused horses. Horses that have to have blankets covering their stalls because they freak out to much if they see someone walking past except for her the girl who managed to talk to the horses through her heart and not with words. She was Bipolar and had Asbergers, a type of high functioning autism.
People with mental illnesses typically have a closer connection with animals no one knows why but it's proven, so that helps her communicate. Chloe was a horse that had been so badly abused by her owner that no men could come within 10 yards of her.
The girl was able to get closer than any other girl that worked there She would spend hours gaining Chloe's trust and just standing there with Chloe's head on her chest and stomach both breathing deeply silent conversations flowing. One day, after a year, the girl decided to ride Chloe. She couldn't put a saddle on because Chloe was still sensitive about her scars but there was just enough room between her shoulder blades and the middle of her back for the girl to sit and they rode around and around the arena that was the day she found a companion for life, as long as men stayed away.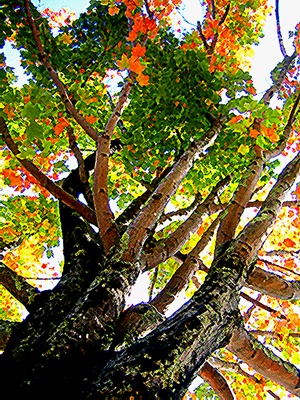 © Kathryn R., Shelby, NC