becoming stars
November 21, 2010
He walked the earth finding the place that would spark his memory, tell him who he was and is. Everyone questioned him, everyone doubted him. At times he even felt discouraged, let down by others, pushed out of their minds as stupid, dumb, immature. But nothing would change his mind and no one would stop him. Some say he was a wise man until his time had come, others say it was what he had believed that had put him in harm's way.
But-was it really so bad to want to find himself? Was it the intimacy of his own thoughts that gave him the courage to travel such a treacherous route? Or was it just the plain hope that he was meant to be much more than others thought he was? As he had forgotten his life so many times that others thought he was an amnesiac - just another sinner with a dream. A sinner! He as himself could probably not come close to us as "sinners" but sin as we might we haven't the courage as that one man.
So go! Go and ask one and all! Who has found themselves?! Their true selves? Neither me or you or any for that matter. Can you still say he was stupid? Just a young believer, an immature freak! Lies! Lies I say, but who would listen to another sinner? Maybe I'm just like him, with true hopes to be more than me. Ha! Me to be more, as likely as Adolf Hitler to like the Jews! But I as any other have dreams, like this man, this unknowingly brilliant man.
Still he traveled 'til his death. Held up by authorities and asked questions about his point of view. They had asked him why he had done it, what was the point? What was he searching for? What was he trying to prove? Why was none of the beauties of the world fulfilling? He only sat there and listened, knowing that the end of his journey had come.
That night he wrote a note, simple lettering in neat and to the point handwriting:
I travel because I have not found my hope. I search because possibility is endless. I am trying to prove to myself that I am something greater. None of the beauties of the world have fulfilled me except whom I loved. But to let the world know I am not dumb, only a poor old dreamer. I realize now everyone dreams different but through it all, the greatest dreamers become the brightest stars.




-Running-
They had found the note on his bed but cease to find the man himself and thus his name became known as ~Running~. But to ask me, I myself would call him ~The Shooting Star~.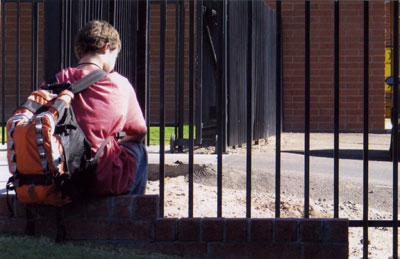 © Molly L., Phoenix, AZ