The Mission
November 15, 2010
Wide eyed wanderers.
Waiting to try.
Waiting to find.
With a world of wonder ahead of them.
We all make mistakes.
Stumble. And fall
. When the cherry is glowing bright. And you're down to the last cigarette. You think, who are we really? And what made us this way.
Should we be defined by the love in our hearts or the pack of American Spirit in our hand? To some, anyone is no one if their smoking.
To others, anyone is loved regardless. Everyone waiting. Always watching.
Whispering,
"When's he going to quit?
They think you're a wreck, just because you do it. "You know it will kill you".
We are all very aware.
When they find out you do it, they think you live under wraps. That you'll soon be tucked away underneath you bed.
There are worse things they could say, but their tongue tied and terrified of what will come out. It's always about "they".
Always "he". Or "she". Never "we".
Why can't we love each other for who we are? And who were not.
Freeing you wave of weary followers. Haters are probably more accurate. All they do is wine. Wrongfully, probably.
Until they wring you dry of all spirit, and personality. You try to wiggle out of it. But by then end, everything's nothing.
You have nothing left,
But a six pack and one last wreak of empathy.
With a load of apathy on the way. You're lost within your own home. Trying so hard to breathe. Break the walls down. Bust out and go home. Just to believe you're not alone.
We all suppress to them. We do what they want us to.
When to wake, when to unwind. And yet, we are all still judged for it.
All we can do is let it destroy us, withering away. Or step up. Break out of this cage. Some of us may still be in that place. Hoping to get out. The secret, be what you set out to be. Without a doubt. Undoubtedly.
Your way too old to back down. Just man up, hold you ground. Walk this road together, through the storm. And never go back on that promise. You're in the wrong place trying to make it right. You get lost in the beauty of it.
Because it's only half as bad as they say it to be. Hopefully the hate subsides, and the love can begin. Maybe it'll start now. Maybe I'm just dreaming out loud.
The expectance of carrying a lighter. But that could only be a wish. Or another one wasted.
It's a detail in the fabric. You have to hold your own, know your name and go your own way. Get your life in place. Stop giving into others hate.
Stop feeling like every night is alive with the promise of a street fight. You need your hopes, your dreams, your everything. They all knew, you had it good.
You were waiting for the summer. But the summer is a bummer when you can't leave your pathetic excuse for a town. You know you've been a better man than who you've become. But what's that going to change.
You know it breaks their hearts to see you here, but they only see the outside. They think you should move, find a new school, new life, a whole new set of friends. They don't see the real you. They don't see how your still you, just a new you.
They don't see how it's your only escape, from this town that was so mean. And still is. You ply for relief, this town won't receive all the things that you want, the things that you need. When all you ever wanted was love. Every day.
Living this way is what kills you. It takes strength. Quitting is strong.
But never being afraid is power.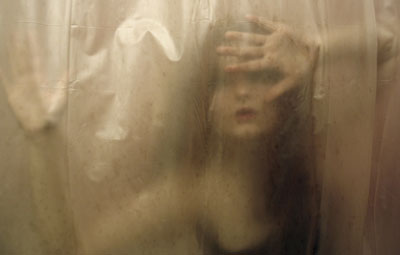 © Emilie E.