Guardian Angel
November 18, 2010
Speeding down the highway, seeing flashes of neon signs advertising fast food and alcohol. My mind is racing with thoughts; is he going to be okay? Is he already dead? What happened? Am I going to see him in time? I didn't know the answer to any of the questions, so I added more pressure on the gas pedal, as I thought about him harder.
Minutes passed, until I swerved into the near-full parking lot of the towering hospital. I parked in the tow zone, knowing that there wasn't any amount of money I wouldn't pay to see my son alive one last time.
My stomach had instantly dropped when I heard the terrible news about my son getting in a car crash, and life flighted over here a half-hour ago. I was sitting in my office chair at work when the phone rang. I ignored it thinking it wasn't important, when my cell phone rang. The number that was being displayed on the screen was unknown. I slid my phone up revealing the keyboard, and pressed the green button.
"Hello?" I say in a questionable voice.
"Angela Johnson?" The deep voice replies.
"Yes, this is her."
"This is officer Goodie; I regret to inform you that your son was found in a car crash on highway 101. As if now he is on his way to the hospital, and we aren't completely sure if he is going to make it."
I dropped the phone into my lap, my mouth slightly open, eyes wide, trying to make sense of it all. I picked up my purse and phone and ran out of my office through the building to my car. I struggled getting my keys into the ignition, and had to turn it twice in order to hear the quiet rumble of the engine.





*

*

*
I knew, if I heard this a half-hour ago he could possibly be dead by now, and the last time I would have talked to him would have been three hours ago, arguing about something not worth our time.
I ran as fast as my scrawny legs would carry me through the slowly rotating door, to the front desk.
"Where is my son?" I yell, panicking.
"Calm down, Ma'am. What's his name?"
When the women behind the desk told me to "calm down", I started shaking from aggravation, but I knew arguing with her wasn't going to save my fourteen- year-old son's life.
"Zach Johnson." I said through gritted teeth.
She made a few fast clicks on her computer monitor before she said, "Down the hall to the elevator, second floor, room thirty-two."
As soon as the words left her mouth I was sprinting down the plain, long hallway filled with the scent of sanitation. I saw the elevator door ajar down the hall; I pushed my legs harder. I threw my arm into the heavy closing doors, and they just brushed both sides of my arm as if deciding whether or not to squish it or not, then they sprang in reverse. I jumped in the second they were wide enough. I slammed my finger on the second floor button over and over again as if it was going to make the elevator ride any faster. As I stood in the back of the elevator I felt completely alone even though it was crowded with six other people. Not one of them knowing what was going on in my head, or even caring.
As tears started to fill my eyes, the doors opened with a loud "ding" that sounded like a scream of agony, but judged on the others faces that was only to my ears. The crowd moved out as I pushed my way to the doors and continued sprinting down the halls, searching desperately for room 32; 28…29…30…31…32! I pushed through the heavy wooden doors to see Zach. Just laying there, badly bruised, eyes closed, and hooked up to just about everything you could think of. Tears overflowed in my eyes. I slowly walked over to him, not wanting to do something wrong. I stood there not sure whether or not I should or even could touch him. Instead I stared at him for what seemed like a couple minutes, but I knew it was longer.
Zach's eyes twitched and they slowly opened enough to see his deep green eyes.
"Oh Zach!" I exclaimed. "I'm sorry, I love you, I love you… I'm sorry." I said as his eyes close.
"I love you too, Mom, I'm sorry." He said in the faintest whisper, it was even hard for me to hear.
"No! Don't be sorry. No! Stay awake!"
He just laid there motionless, like a statue. I knew those were the last words we would share. I sunk to the cold, tiled floor sobbing. The short and stubby nurse walked through the door. I stood there beside my dying son, staring at the nurse, waiting for her to save him, but she didn't. She just walked over to my son, looked at a small little monitor with a flat line running horizontally across it. Her eyes filled with tears. She was silently crying, trying not to let me see.
"I'm incredibly sorry, Ma'am, but your son is dead." She said in a sweet voice.



*

*

*
It took me over three months to stop being mad at God, to stop blaming him for his death, and to stop believing he is selfish, for taking my son. I finally realized that my son was special enough for God to want, and knowing that I felt proud. As he is my angel in the sky, always lingering near by, "Right through the clouds" I always say. He is always there looking down on me, watching out for me. He is and always was my Guardian Angel.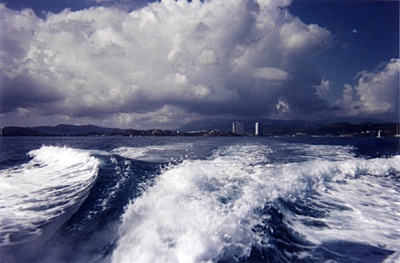 © Jenn T., Dover, NH