Growing Up
November 13, 2010
"What do you want for breakfast?" my mother asks in a cheery voice, trying to put on a happy face for my sister and me in the morning.
"Sleep…" I moan. I'm only ten but I speak like a teenager. I sit on the left side of the counter with my head down. Our dogs circle around me and my sister, who sits to my right. The dogs want food. I think mom should give them my breakfast. At least they want it.
I am still in my pajamas while I sit in the kitchen. I should probably get dressed. Our carpool will leave soon, but I think I'll stay. The soft green walls have a calming effect. I could go to sleep right now, if only the dogs weren't bumping into my feet.
I head back to my room thinking sleep sleep sleep sleep sleep. If only my mom weren't so persistent when it comes to waking me up in the mornings, then maybe I would be happy. But that doesn't matter right now… I need to put on my uniform, brush my teeth, comb my hair. My head comes to the middle of the bathroom mirror. I'm the second tallest girl in the class. As I walk out the door I hope that today won't be too bad. Please let the other girls leave me alone, I pray as I head towards the car.
The ride to school isn't too long. We don't have to wait very long in the back lot to get dropped off, but as I walk into my classroom no one says hi. They do say "Here comes part of the nerd herd." Elementary school can be cruel.
***
Beep beep beep beep beep goes my alarm. It's 6:31 in the morning. I roll over in bed wanting more sleep. I wonder when I'll start feeling like an adult and get out of bed willingly in the morning. I'm eighteen, but in the mornings I am still a child.
Sit up. Turn on the light. Wait for the phone to ring saying school is cancelled. It's doesn't. This is my morning routine.
I find my uniform and then go into the bathroom. I still need to brush my teeth and comb my hair before it's time to leave for school. I look at myself in the mirror; hair up or down today? I must make sure my shirt is straight and tucked in, but who am I kidding? It doesn't really matter.
I wander into the living room where my sister waits to be picked up. We don't talk; it's too early in the morning. The cats sit beside her and don't acknowledge my existence.
In the kitchen my mom is in a frenzy. "Come here and get your lunch!" she yells into the living room. Slowly, slowly, slowly we go in there to finish the final preparations for school. Grab lunch, get socks, find shoes.
"Come on Rachel, let's go!" my mom tells me as she walks out the door. If I don't come quickly she might be late for work.
"Coming…" I meander towards the car, get in, turn up the radio.
Mom drops me off at the front of school. I walk through the door, a few people greet me, and others smile. I hope today won't be bad, and during my two conversations before I get to my locker I realize that it won't be. High school is a relief.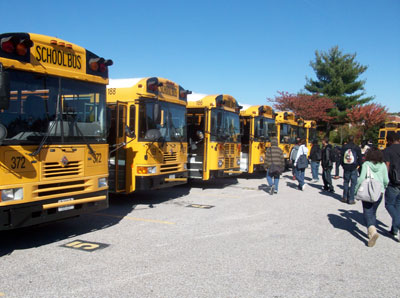 © Cierra W., Odenton, MD