Thirteen Finally
November 12, 2010
July 24th is when I blow out my candles and say good bye to another year. Although I have had many birthday parties before with my friends and family but that was before I moved from Saco to Limerick..... When I was five! So I'm really looking forward to my party this summer. It is going to be Hawaiian themed and I actually get to invite my friends from school and from my cheering team.

It's Saturday a week before my birthday party at my aunts house. We are having it at my aunts house because she has a pool. We are going to be very busy looking for things to buy to decorate and how we are going to make my cake. We had looked at flyers in the paper and we saw a good one from the dollar store it had a bunch of hawaiian stuff in it! So that's what we are doing today!

When we got to he dollar store. The whole left corner was full of hawaiian stuff! My mom and I got to work and bought a lot of stuff from a big tiki glass to little flip flop candles. My mom and I were looking forward to decorating the whole pool area. On our way home I got to eat at Pizza Hut, my favorite pizza place. When we finally got home I took everything out of its package and put it into a big box till my birthday. I knew that it was going to be horrible to wait for that long of a time for my birthday.

When friday finally came I found out that my two best friends couldn't make my party but I knew that they must have had already made plans. But every one else could come but one couldn't make the party but she could make the sleep over my mom said that I could have four friends sleep over so I invited Christina, Allison,Monique and Deidra. It was so fun we slept in a tent and listened to music and we took lots of pictures. But in the middle of the night it had started to rain so we had to go inside and pile up onto my bed and on the floor. Christina and I got the bed and Allison, Monique and Deidra had to sleep on the floor. We all had wet blankets and pillows it was bad. In the morning we all had waffles and bananas except Allison she doesn't like waffles so she had cereal. After we had breakfast we all went up stairs and they all had to pack their stuff because they had to leave in an hour.

Everyone had left and know I had a huge mess to pick up. I also had lots of blankets and pillow cases to wash and dry. But I have to say that this is one of the best parties I have ever had and I hope to have another one next year. All of my friends that I had invited all said that it was so much fun and I should do it again. Even all of my family members had a great time with meeting all my friends and having a good time with the good weather. Next year I think I'm going to bring four friends to the beach and the amusement park near the beach.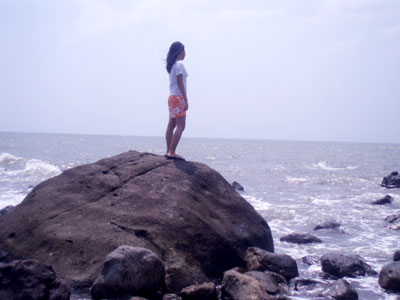 © Grace L., Bacolod City, Philippines