Out of Eden
November 3, 2010
He was the embodiment of a country song, a flesh and blood cliché: gorgeous, with brown floppy hair and blue eyes; captain of the football team (number three), a new girl every week and beer-pong with the guys every weekend. He had a smile that literally made her heart stop, if only for a second, and she wanted him more than anything.
She was modestly popular, with friends from all different crowds. Regarded by the football team as more than acceptable, that was who she dated. Mostly the same type: big blonde country boys with pick-up trucks and families that made it possible for them to call everyone in town "cousin".
Falling in love was something she had experienced many times over, in a juvenile sense at least, but not like this. He was an obsession, and they hadn't exchanged more than a casual hello. Of course it had something to do with his looks, which were beyond reproach. He was strong and masculine without being overly so, like some of her others had been. And then he was the one person she knew whose eyes actually sparkled when they laughed.
But none of that quite it explained it. He was completely perfect in her eyes. Easily better than the hero in every book she had every read. This fantasy knight had sustained her for two years, when throughout the parade of big, burly, "aw shucks," boys, she had thought of his good looks and Southern manners, putting him on a pedestal he could never live up to in actuality.
The rain pounded down on the outside of the big yellow school-bus as it trundled down the road, the younger girls yelping every time the sky lit up. She was engrossed in a much more painful worry. Rumors had been flying all day about her current guy, and what he had done last weekend. When the facts had been gathered and the misdeeds assembled it proven true: John had cheated.
Being alone on a Saturday night was something she was not used to. There had always been someone new, someone next in line. The single state never lasted long with her. This time though, it seemed determined to stick it out. And her mind unconcerned with other young men, she thought more and more of him.
Nothing would come of it she knew, but it couldn't hurt to dream. Smart, handsome, funny: perfect.
Football season rolled around. A time she loved. The late night, white lights, huddles of people gathered close together to escape the chill of the crisp fall air. This year would be different for her though, she was water-girl: a position of grandeur and status that would bring her onto the sidelines and into the thick of things.
The games rushed by. Bardstown was having a bad year where health was concerned. Player after player went down-even him. One game, a particularly rough tackle re-broke his thumb, and, oh God, why did a broken thumb require him to take his shirt off?
But the injury put him on the sidelines, and a friend ship grew. Her idealistic vision of him faded away and way slowly replaced with a real boy, with friends and feeling and a gift for poetry. "Roses are red, violets are blue; you love me, and I love you too." The word "love" gave her chills even as she laughed when he sent her that. She knew it for a joke, but the butterflies in her stomach just couldn't control themselves.
Time went by. They became close: dinner once a month was expected, and if she threw a party she had a right to yell if he didn't show up. Though nothing aside from a friendship was ever mentioned, it no longer seemed an impossibility. "Something more" didn't seem like a dream anymore, but a reachable goal.
She should have known better. Weeks later he had a girlfriend with ridiculously straight hair and a "don't touch me" attitude. And that was when she knew that nothing could ever be the same again. Eden had tired of her before she had even had a chance to try the apple, and had pushed her out into this world where the one we love doesn't have to love us back. There was no going back. Cinderella was nothing more than a pretty story, and even if it wasn't, the glass slipper would never fit her size eight and a half, calloused foot. Even though she knew everything about him, she didn't have him, and never would.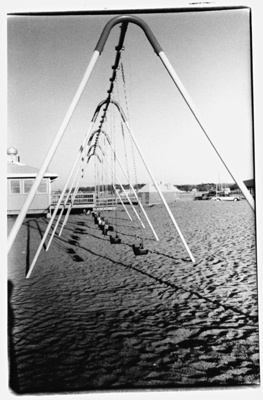 © Gina M., Marblehead, MA