Possibly.
October 29, 2010
Possibly, there might be a small chance that I'm happy. Such an idea is a rare thought of mine, but that doesn't it mean it could never happen. Everyone deserves to happy once in a while, even me.
Alone, I'm standing in front of the mirror, looking at an average guy with average hair, average looks and a stripped sweater. I sway my bangs back and forth, biting down on the back of my lip, trying to find the right way to place them so I might seem the tiniest bit of cool.
Nothing seems to be perfect as it use to be when I wasn't happy. Happiness makes me nervous, I guess. But who could really blame me? If I mess up this feeling, I'd be, well… sad, hopeless. Something I'm all too familiar with.
"Peter!" My sister calls me from the hallway outside my room. Her voice is irate; though that's the normal tone she sets when she's around me. "You're going to be late! I'm not driving you if you're late!"
"Alright," I snap back at her, groaning and moving my uncooperative bangs to the side.
Motionless, I wait for my sister to leave my door, hearing the floor boards creak and whine under her weight. Alone now there's no reason for me not to be even more self-conscious then I already am. So I rest my hands on my dresser, my arms straight, I stare down myself and tell him "It's going to be okay Peter. You can do this. Just-just, uh, be a gentlemen?"
Sighing, I rub my eyes back into the sockets and turn completely around before I looked back to the mirror, continuing my charade "Just say, hey Louise, didn't expect to see you here. No. No. No… um, what's up Louise! How's it hang'n gurl?" Looking like a looser, I blink back at the dumb expression in the mirror. I advise myself, "Please don't do that. Definitely not that."
Another sigh leaves my lips and I search through my mind for something that doesn't sound like a driveling insane person. I come up with:
"Hi."
A side of my lip raises and a chuckle escapes. "This is so useless."
"Peter!" Louder, my sister screams again but from downstairs. "Hurry it up! You've got five minutes!"
"Okay!"
Quickly, I grab my wallet and my i-pone, about to place them in my pocket, but I catch myself. What if there's dancing..?
Five minutes huh?
My eyes peak around the room, seeing no one but me and a closed door. All I need is two minutes really. Instantly, I put my wallet away and keep my i-pod, and press the shuffle button. The first song comes on, "Bust a Move." And I nod, getting into the beat before I move to the words. My body makes spins, rattles my limbs and I move around, watching myself in the mirror. I try out everything I can think of, feeling the music.
So I'm not a completely hopeless dancer. A full smile stretches across my face and I head bang and jump around until the song is over and as I huff and puff for my stinging lungs, a giggle is heard from behind me.
And like that, every good feeling plummets to my feet and I want to vomit. Glancing around, I notice my sister there, leaning agianst the door with the biggest smirk on her face. So she can't say a thing, I rush past her in a panic "Well let's go!"
"What were you doing?!" She cackles all the way out the house, making the grimace on my face deepen and tattoo there. This is going to blow…
We arrive at my best friend's birthday party. The neighborhood is quant and balloons are tied to the mail box. From the drive way I can see the back yard party area with the lights, the DJ, people, and more colorful balloons…
"I'm feeling sick let's go back home." I spout, hugging the gift agianst my chest so I don't claw into my hands.
My sister snorts, unlocking the door "Get out."
Petrified, I don't move. This makes her roll her eyes and push me agianst the door before I do get out. When I'm about to close the door, she decided to tell me "Good luck Romeo, and don't worry when she rejects you, if you start dancing no one will notice you're crying."
Pissed, my brow narrows, slamming the door shut, biting the inside of my mouth. Maybe there's no point in thinking I could be happy. I was just being delusional, not everyone can be happy. People can be happy because other people are sad and that's my destiny, to be that guy…
Just as I'm about ready to drag my sorry butt home, I hear a sweet bird, "Peter! You're finally here! I was worried you weren't going to make it."
I see Louise a beautiful girl with beautiful hair, beautiful features and a lovely yellow dress. I'm tongue tied, "Uh, um hi Louise. "
She smiles and the sun shines a little brighter "Hi Peter."
Possibly, there might be a small chance that I'm happy. Such an idea is a rare thought of mine, but that doesn't it mean it could never happen. Everyone deserves to happy once in a while, even me… possibly.
I smile back at her.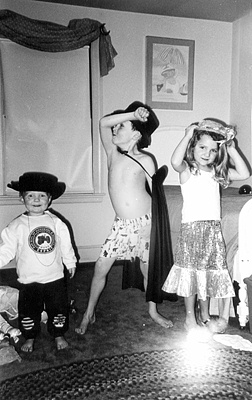 © Courtney M., Marblehead, MA