What If?
October 18, 2010
Breathe. Just Breathe.
These were the words that I continued to repeat over and over in my head, on an endless loop. A cycle.
There were people. So many people, there eyes all gleaming and expectant. Of me.
What if I couldn't give them what they wanted? What if this turned out to be a complete disaster?
I felt a tap on my shoulder, and I turned to see Him. One of my bestfriends. His guitar was slung lazily over his shoulder, his red hair in a causual messy dissarray like always. He smiled, showing his teeth. My body relaxed a bit. "Kyndal, Just breathe. You're going to do great, 'kay?"
I nodded, and for a minute I belived him and regained my composure. I turned my face back towards the crowd of people....all staring...and laughing........and talking.....about me. I lost my composure again. He walked back over to his amp, reassured and worriless. Beside me, My friend Chelsea smiled showing her perfect white teeth.
"We'll do great, I promise." I grimanced. I wanted to believe her....I really did.
The notes began to fill the air. The slow, sorrowful melody of the song came out in shallow bursts of energy, it entranced the whole crowd.
What if I forgot my part? What if I Didn't come in on time? What if...
Poke.
Chelsea poked me, her cue to remind me when to start the song.
Without even realising it, the words came out effortlessly, flowing with the guitar.
"She is running a hundred miles an hour, in the wrong direction..."
I could tell I was going to do fine. All of that worrying had been for nothing. The What If's left my mind, completly.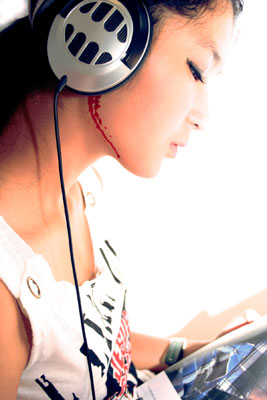 © Jiani L., Toronto, ON, Canada