Love and Letters
October 17, 2010
Today is the day. I walk into what used to be our room and pull a shoebox out from under my bed. Once a year on the anniversary, that horrendous anniversary, I make myself read them. The letters, all the letters, the love letters, the funny letters, the sad letters; I make myself read them all and try to conjure an image in my mind. I have never read them in order; it feels wrong to do so.
"Dearest Sarah,
"I have missed you. When I return I shall marry you so we will always be together, never to part. Marry me Sarah; promise me I am yours, always. My contract is up in two weeks and I will expect you at the airport to meet me just so I can see your smiling face. I cannot wait to be together always and then even death would not dare to keep us a part. We will have such a grand time. We shall travel to the beach and stay for eternity, just like when we met. Do you remember that Sarah, darling? You were running to catch that ridiculous bright yellow Frisbee your little sister threw. You always claimed you picked that color so you could never lose it, I think you bought it so that everyone would watch you throwing a plastic disk of such a bright mesmerizing color so that the poor observers could not turn away. And you were running down the beach to try to catch it because she threw it too hard. You did not see me standing there and the next thing I knew you had smacked right into me. You blushed so much your whole face was as red as a tomato. Your brother was laughing so hard I thought he was going to kneel over and cough up a lung! Well, you looked so cute I could not resist asking you to join me at a party that night. We had a blast! I always cherish that memory of us. You are mine and always have been. I love you always – from your true love."


There are already tears in my eyes. I shuffle through the letters looking for a specific one. I found it and it was dated the day before you were gone from me forever. This one is one of my favorites. I open it slowly, knowing what to expect, shaky writing and water marks from your beautiful tears.
"Dearest Sarah,

"You would never believe me if I told you this face to face, which I have considered for many hours, but I decided to write it down so you could always remember how much I love you. I feel my life slipping away, slowly. I can hear your voice saying 'Oh darling do not be ridiculous, it is just your imagination.' I know I am right, I can feel it in my gut. I do not want to leave you or our beautiful little girl but I cannot stop this from happening. You have told me throughout this entire endeavor that this is just a small speed bump in our marriage, but darling it is more than a speed bump, it is a massive wall you and Caroline will have to climb together. The two of you with a little help from your friends, just like the Beatles song we danced to at our wedding and on our honeymoon. Do you remember our wedding fiasco? The monstrous ice storm the night before and all the roads were ice and the power was out? I remember it clearly. Your mother had said 'She had it coming; she obsessed over her perfect white wedding.' I laughed so hard when I heard her say it. She did not mean anything about it darling, I promise. Do you remember the reception? All bathed in candle light, it looked so majestic and mysterious and you looked very luminous with the candle light surrounding you. You were a vision in white.

"Remember how much I love you and your ridiculous bright yellow Frisbee, which is now waiting in the attic for our planned beach trip that you and Caroline are going to go on. I will never leave you no matter how far away I seem.
"Love Always, William"

I sat holding the tear stained letter adding more stains to it as I clutched it tightly sobbing. My poor dear husband, my poor dear daughter who has been so strong for me, William would have been proud.

"Mommy?" I am broken from my revere by my daughter. I look up at her, trying to remember where she had been. "I just got back from Morgan's house. Why are you crying?" She looks down and sees the letter in my hand.
"Oh mom," she says, her voice cracks slightly. She takes the letter from me and reads it taking in all the words I had never let her read. She folds it up gently and puts it back in the envelope. She has tears streaming down her face too, but she is not making the choking sounds I make. She looks at the bottom of the box and finds my favorite picture of the three of us at the beach holding the bright yellow Frisbee Caroline and I love.

I hold out my hand for the picture and she moves over and I lean my head against her shoulder, her head on top of mine. We sit there like that, clutching the picture, and crying for what could have been hours or days.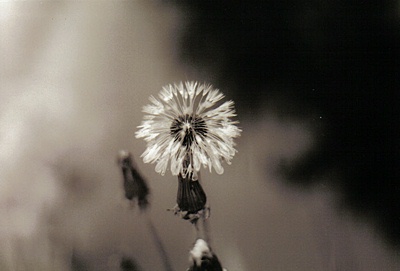 © Sarah S., Poland Spring, ME