Black Sheep
October 16, 2010
It's no fun being a new kid anywhere. You always have to worry about what you wear, who to be friends with, and how to act. Fortunately enough, I never really cared about what styles are 'in' and 'out,' Taylor Swift or Miley Cyrus gossip, or even what the 'popular' cliques think of me. The only things I really cared about, that September Monday morning, were getting to the bus stop on time, so my dad doesn't have to drag me out of bed by my untrimmed toenails, and getting a delicious energy fruit smoothie from my mom. Thank goodness for alarm clocks…I got to complete both of those tasks. Even though I did have a huge strawberry spatter on my favorite shirt and had to change, things could have gone worse.

Now here I am positioned at a pale, white driveway with burgundy brick trimming, with a bunch of video game addict sixth and seventh graders talking about how to hack a Wii. I saw the ID tags hanging around their necks, which contained a mini-sized school photo, and in an orange shade that resembled pumpkins on Halloween, said "Pine Hills Middle School". Great, I thought. They probably know I'm a newbie.

About twenty-two seconds later, a large canary yellow brick-shaped bus starting peeking out behind a street corner. All the dorky looking nerds gathered up their backpacks and got in a neat, single file line like they were about to meet Bill Gates. I slouched my worn blueberry-colored backpack over my right shoulder, while the school bus seemed to be coming at me in super slow motion. As the vehicle gets closer, a soft but noticeable whisper comes in my ear…it has happened every time I transfer to a new school, and is one of my largest living nightmares…the ghost-like whisper says, "How about you go back to wherever the heck you came from, and go back to being a worthless slave like your ancestors you black piece of junk." Sprinkles of rain started to fall as the bus, which reminded me of a large yellow dragon, pulled right in front of me, falling down slowly, just like my stream of tears I was trying to hold back. But somehow, a few loose leaks ended up on my grey Aeropostale sweatpants and my sky blue "Prince Charming is Overrated" t-shirt.

Getting on the bus, I was faced with an unfamiliar ocean of unknown faces. Walking towards the back of the bus, I inhale the mixed scents of Herbal Essence and Suave shampoo, along with the disgracing scent of Axe cologne and Fairy Dust by Paris Hilton perfume. I felt like I was in a heard of white sheep, and I am the outsider, the little, confused black sheep wandering around only to end up in the middle of nowhere. Sitting down in the uncomfortable leather brown seats, I look out my window, watching the parents of those racist kids lean their fat heads in and mumble about the new colored family that moved down the street. As the bus pulled away, I thought about what that nerd had said to me. Crude as it was, the testimony was to some extent true. My great grandparents on both sides of my family were slaves…but is that supposed to mean something significant right now? By the way those idiots treated me, something tells me his is going to be a very long day.

Approximately fifteen minutes later, we arrive at Pine Hills Middle School; an elementary sized all brick building with beautiful traces of expensive landscaping around the edges of the building. The monster heaves in the bus drop off area and releases the parking break with an annoying whooshing sound. I proudly stood from my seat and get pushed down again. "Black junk," a friend of that creepy nerd whispers to me. I could've slugged that moron right in his nose, but that is how I got suspended from my bus last year.

Immediately after escaping the horror of that yellow beats, I notice a flock of at least ten to twelve kids the same race as me, a variety of shapes and sizes, getting harassed by some clique of white kids trying to look like tough gangsters with five necklaces around each of their necks and a ring on each finger. I couldn't make out what they were saying, but I knew those 'gangsters' were doing nothing but causing trouble. Suddenly, my feet start dawdling over towards the ruckus, and it was like I had no control over them whatsoever.
"HEY!" I screamed, approaching the leader of the white crowd, an eighth grade boy just a smidge taller then me, thick, slightly curled blonde hair, with his crew behind him in standard formation.
"Did you come to join your animal friends? Well here they are…with too many problems…I guess a mental hospital won't do them any good!" he screeched, his voice tough and frightening.
"It would do you plenty of favors, starting with the way you talk to these kids," I coolly replied.
"Wow, nice comeback for a black," he snapped, his saliva fluttering on my face as he spoke. "Too bad it's not true. Your little friends are just messed up…period."
I stood inches away from his sweaty face as I retorted, "Says the racist gang, right? Now how about you leave them alone? They never did anything to you…so go away and stay away."
The herd of kids stomped away with fury, already planning their vengeance against us. I felt a light tap on my shoulder. Rotating around I could now depict each face. There were five girls and seven boys in the hurdle, all looking like siblings except for the way they dressed. They had brown, blue, or hazel eyes, struck with a mix of fear and relief.
A smaller girl with braids down her back stepped up and softly mumbled to me. "Thanks so much. We would've gotten beaten again if you hadn't come and done something about those idiots. I then noticed the few various scars and bruises on each of the kids; few on the arms or legs and scattered on their fearful faces.
"No problem," I said. "They were getting on my nerves too." I peered over my shoulder to see the white gang huddled in a corner, making immature remarks and faces at each other.
"Do you need help being shown around?" a medium sized boy asked me, more confident then the little girl's thank you reply. "It's the least we can do to repay what you've done for us."
"Thanks so much. That would be great." While they lead me into the school, we were already talking like we had been long lost sisters and brothers, catching up on everything new in our individual lives. Smiling, I really hoped that this group was going to be my first 'clique' of friends, the friends you can tell secrets to and they won't laugh or tell anyone about them; friends that will give you advice in a stressful situation. They would be me flock of black sheep.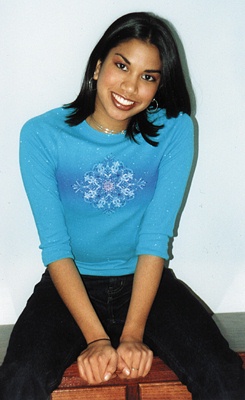 © Sarah W., Greer, SC