The Pixie and the Golden One
October 13, 2010
Pitter patter pitter patter.

The rain was gently pounding on the windows of a little apartment building in the middle of a sleepy town. It was a brick building, only two stories and in a little group of four apartments in the same complex, all sharing the same burgundy roof and scraped away outside.
Whooooo. Whoooo.


The wind whipped the building like it was a trainer whipping a wild animal. The hallways smelled of a strange mixture of cats and marijuana and laundry, the walls a once pristine white color of a mental institution, and all of the rooms were wheel chair accessible.
Wrhhh. Wrhhh.


The only sound was the air conditioners running and a loud heavy radio playing in one particular apartment on the first floor. Otherwise the silence was almost a definite sad one, filling the place with the illusion of some type of death.
Tehehehe. Tehehehe.

The deathly silence was broken by a loud crash of a pot falling on the ground and a sparkling feminine laugh from the apartment with the loud heavy radio. "Godd*** it!" Another different, equally female yet raspier voice called out after it, but with a low chuckle following it.

Two girls, both of about seventeen, were sprawled in the small kitchen both dripping from head to toe with a sticky mixture of milk and water and eggs and flour and chocolate (the normal batter for chocolate cake), unable to stand from laughing from the strange moment that had just happened. Both were beautiful and curvy girls, lying in tank tops and shorts, their thick legs and breasts almost completely escaping their minimal clothing, covered in this sticky cake batter.

One, the shorter of the two, lay laughing still into her pale, freckled arm, her short light brown hair sparkling with a little golden blond collapsing around her high cheek bones and cat-like, feline blue eyes. Her soft tense voice choked out, "Now any guys we know will truly just want to eat us both up."

The other taller one was a gleaming golden girl, her skin and eyes and hair all looking like they sparkled with a light sprinkle of fairy dust, yet extremely dark. Her long, dark curly hair was pulled into a slim braid, a few curls escaping to frame a long English face and big hazel green eyes. When she heard her friends comment another whirl of laughter escaped, raspy and deep and seemed to sparkle with a hint of sexual awareness.

The taller golden one managed to stand up and sleepily stop her giggling as she glanced around. Her thick coral lips slipped into a white smile, her pink cheeks gleaming flushed with excitement. She licked her lips, "Well, we would taste really good…"

The shorter one managed to stand up too, looking at the chocolate pudding that was in her hair and laughing at her friend's sharp eyes that caught the image too for a moment. "We need to shower."

The sparkle grew in her friend's eyes. "Are you trying to give every guy we know a boner with that image?" A small silence elapsed, the only sound the radio burning a hole into the death-like apartment, and then another burst of laughter escaped from both of them.

Both stretched, still giggly and laughing at the look on the other one's face. The taller, golden one moved toward the sink, turning on the faucet and shaking her long dark hair into a soft bun on the crown of her head. The pale one grabbed the mop and began to clean the floor. Twenty minutes later, the room was sparkling under the dripping sunlight from the kitchen sink window, but the two girls were still covered in cake batter.

"Well… should we shower?" they said in unison.

The two stared at each other for a moment, examining each other's curvy bodies still iced like a cake, ready to be eaten. Finally the silence was broken by the shorter pale one coughing, and saying, "Well you can take one first if you want."

"No, no, no. I'll just go home a shower and call you when I get out," the taller one said, her eyes nervous and cheeks flushed with the thought of being in a shower with her best friend.

"Okay."

The taller one grabbed her keys and fled.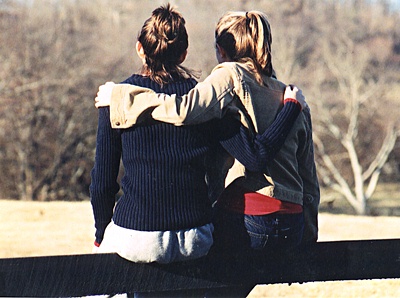 © Jaime M., Wichita Falls, TX