Manhattan
October 2, 2010
You want to kiss the streets of Manhattan and hold its grease-slick sidewalks to your chest like a pretty girl; you felt the pull of a road strung with lights like a Mexican living room strung with red and green peppers
all asking you to stop, go, slow down, slow down and feel the rain thud on your umbrella as you walk from a dim studio out into the park and hear little kids on the road, sloshing, squelching, making sucking noises in their rubber boots as they bat a baseball back and forth over those Mexican lights. You are surrounded by people who don't talk to you
and smear mud on the taxi's runningboard. You smell the cigarette smoke from whoever sat in that taxi seat before you did on
that rainy day and you listen to your heart beating healthily beneath your tweed overcoat that Mom got you last Christmas, thinking it might reap memories of when you took her to Ireland to celebrate her turning 50.
But now it's just you and the belching taxi driver, speeding and slashing and whirring down the crowded and lonely streets of Manhattan.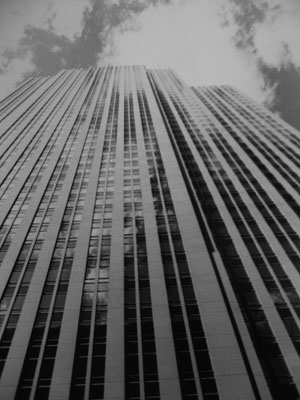 © Aaron B., Eagan, MN