Do Over
September 27, 2010
The first day of school.

Girls and boys everywhere loathe that first moment when you walk into homeroom, not sure who you will sit with, not sure if your outfit is good enough, not sure if your best friend from last year is now besties with the queen bee because they went to cheer camp for six months together while you were at band camp.

I mean, whats the worst thing that could happen? Someone knocks into you in the hallway and your books go flying? You slip and fall in the cafeteria while everyone is watching? The nerdy boy that lives next door sits next to you in bio, making that annoying girl behind you say "OMG, are you guys going out? That is SO CUTE!", not to mention the boy your lab partner for the whole year?

No, thats not the worst. I mean, you can pick up your books and pretend like nothing happened. You can get up from the cafeteria floor and make a joke about how you knew you shouldn't have worn three inch heels. You can tell the teacher you can't see from your seat and need to be moved up to the front of the room so you can write down all the important notes on the board. Still, for the rest of the school year you will probably be known by the majority of the school as "Klutzy-McPhee" or "Nerd Lover" or something like that.

But what if you got the chance to do it all over?

What if the entire first day of school could be reversed? You could go back to the minute when your alarm clock went off. You can change your whole outfit, your lunch table, even the simple conversation you had with your crush. Anything that could have gone better, you can change it. All it takes is a simple wish.

Would you risk it?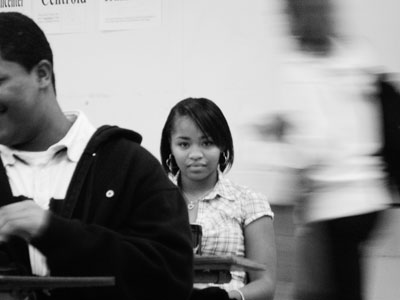 © Demetrius A., Ft. Meade, MD