Last Time
September 15, 2010
This was it. His last everything as a boy. He was graduating high school in less than a week, and though he was nearly nineteen, nearly ready for college, he didn't want to leave.



It was her last chance. Her last opportunity to tell her best friend the frighteningly real thoughts and emotions that had weighed her down since she had met him. She was seventeen. She was terrified.



They walked the halls in silence for a long time, and somehow ended up hand-in-hand, though neither could tell you when they reached for the other. Eventually, the time they had together was spent.



They were together, waiting for a ride home, for he couldn't drive, when they realized how close they were standing.



He just looked at her. She stared back, daring him to say something, to move. Her eyes shone soft with a bitter sweetness he couldn't seem to comprehend, and finally they came a little closer together, and he wrapped his arms around her. They lingered there, under the bright, sunlit window pane of the dusty foyer, until her mother came to take her home.



"Good bye Lucas," she said quietly. She looked into his blue eyes for a moment, her own brown ones huge with fear, and then kissed him sweetly on the mouth, before walking towards her mother's car.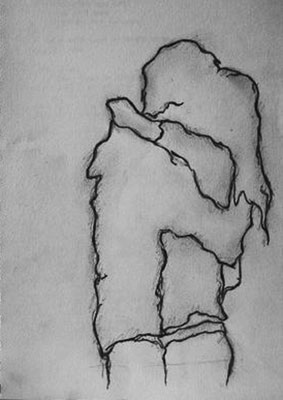 © Nicole B., Newcastle, WA