Broken Mask
September 13, 2010
I looked down into my lap. Upon doing so, I saw a brown, leather notebook that had a few dog-eared pages on the floor next to the TV. Right where I'd left it.
This was Naussi's journal.
"October 1, 2010
Welcome to my life. This crappy world... I once saw it bright, vibrant colors, you know, but now... Everything is black and white. Shades of gray that I don't want to see anymore. Nothing is the way I expected it to be anymore. I blend in well enough, and nobody can tell I don't really belong, but I don't. I don't belong here, living a life that isn't mine.
"October 3, 2010
I don't belong here anymore. I did once, in this world of plastic people and fake smiles, but now I want to escape. I NEED to escape. I don't want to be here anymore. I don't want to be stopped.
"October 8, 2010
I can't seem to turn this around. I want to die. It seems like no matter how much therapy I go through, how many times they tell me it'll all be fine and work out, it will never be all right. Never.
"October 15, 2010
No evidence. No body. I'll just disappear. They'll never find me. They'll never have to see this side of me. If I live like this much longer, my mask will shatter. It's already cracked. The lies are seeping through. I'm getting ready for the end.
"October 20, 2010
It doesn't matter how much people give up to try and save me. I'm too far gone. I can't stay here anymore. This body is dying, and if I stay, my mind will slowly decay, too. I don't want that. I don't want temporary relief from the pain, either. I just want a release.
"October 21, 2010
It's too late to save me. I can feel this poison creeping through my veins. I'm losing my mask, and working harder to keep it. One day, it'll be broken.
"October 25, 2010
I'll never get the life I once had back. All the time I wasted doing idiotic things that weren't good for me or the people around me- I'll never have that time again.
"October 29, 2010
Darek, I know you're reading this. This last entry I made before I died. I knew you would, and I don't hate you for it. I wanted you to so you could do these things for me.
Tell my friends I love them.
Tell them not to cry for me.
Tell them to go on with a smile.
Tell them all the things I should have said.
Tell them to look forward to life.
Tell them every day is a gift.
Tell them to not do things that will slowly kill them.
And if you could, tell my younger siblings to take care of Mother.
Tell them not to cry for me as well.
Tell them to not do things that will hurt those they love.
I learned the biggest hurt in life is seeing those you love in pain.
"And do one more thing for me. Take the mask off my wall. Break it. Shatter it into as many pieces as you can. Take the pieces to my grave. Lay them on top. Let everyone know that my mask finally shattered. That I finally stopped pretending.
"The one thing I shall miss the most is you. Don't mourn my death. Celebrate my life. I love you."

Naussi died two days later, on her nineteenth birthday. October 31. Halloween. Her favorite holiday of the year. She wore one last costume, and it was the one she wished to be buried in. Ironically, it was a vampire costume. She always admired them.
There are so many things I wish she'd told me. So many things I wish I'd gotten to tell her.
I wish I'd told her how much she meant to me.
I wish I'd told her how much I love her.
Well, Naussi, I'll tell you now. Most people would probably hate you for your independent attitude, your utter honesty, and your desire to keep us from pain.
It made me love you all the more. I always admired the freedom you showed, the rebellious streak in you.
I loved how you gushed over animals and never hesitated to help someone in need.
Now that I think about it, you were a contradiction in a bottle.
Some guys often remarked on how you weren't that pretty, but they only thought that because you weren't like the other girls. I always thought you were beautiful, and that you seemed to shine with an inner light.
It never faded. Your mask broke, and shattered, but now, you're free. You're flying with the eagles just like you always wished you could.
You're free from the pain that the leukemia was always causing you.
You're free from your broken mask.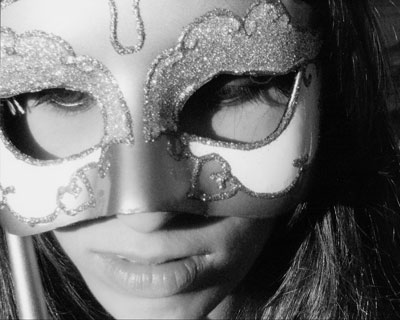 © Becca W., Greenbrae, CA