The Rut
August 26, 2010
I lie in the ditch, hip broken, immobilized
God it hurts, it hurts so fricking much, it-

......I can see explosions in the night sky. Fireworks. Little pops and bursts of green, gold, orange, everything, above the opening in the vertical earth-cave.

Lovely they are, so pretty that I can forget my hip for a little while. Pop! I can hear them outside, the people, with nothing better to do than enjoy themselves.
They live it. Life. I merely exist as a memory in this earth-cave, the living, breathing ghost of one of their kind. I can only lie here, unmoving, and try to enjoy, pretend to enjoy this little glimpse of vibrant human life that I'm being deprived of, because of my stupid broken hip.

They've sent an ambulance for me, at least I think they have. I'd asked them to. It could be hours before it comes, days, weeks, months, years....oh,how the hell should I know? I could lie here until I'm a gray old lady, or die, maybe, for lack of essentials.

They come sometimes, the friends of mine, whose ties were much stronger when I was healthy and living in the world above. They come, and peep over the edge of the ditch, and call to me that they wish I could come up and join them. Sometimes they feel sorry for me and call down their words of pity, but what can they do? If they try to lean in, they'll fall and impale me. It's not worth it.

It's damp here. I can smell something now, something that's not dirt, like the walls of the ditch. I think it's pie. It's been years, no, not years, but months, a very long time I think, since I've had pie. I think I could get some if I just tried to get myself out of here very slowly. Ok, I'm going to do it now, very slowly, one.....two......th-

Ow! I fall back to the earth and wince, hard, trying not to scream. Oh, what does it matter? No one can hear me down here, anyways. With this realization in mind, I scream, happily.

Can't hurt myself, mustn't do this, must lie here and............wait. Wait no matter how bloody long it takes for them to get here. So I do it.

*******************

In the morning, my hip heals and I can get back on my feet again. I dig my fingers into the earthy walls of the ditch. The dirt cakes in great lumps under my nails as I gradually hoist myself out.

Freedom! I swing one last leg over the edge and run out. I run clear across the summery field, screaming at last with joy. In the excitement, I seize the waist of a little little girl passing by. Her sundress flounces as I lift her up and swing her, and she screams in fear for her mother, a wonderful, throaty human scream, full of life. Laughing, I put her down at last and run back to the trees.

My friends aren't here. For a moment I wonder where they've gone, then wonder why it matters at all. I play with the other people there, and life is wonderful and full of sunshine. I hate sunshine, but I don't care, because we're having so much fun,until.......

The frisbee is thrown. It flies across the grass and I make a run for it. I want to catch it. And I've almost got it, almost, almost-

I catch it. But then underneath me the ground disappears and I'm falling, back down, way down........

There's a sharp cracking noise as I hit the bottom of the ditch. My. Leg. Oh. Good. Freaking...........I can't say that word.

So I scream. But they can't hear me. It doesn't matter, because it will be days, months, years, before the ambulance arrives.

It always happens like this, no matter how good life gets. It's a bloody cycle, like everything else in life. And there's nothing I can do about it, except wait. Wait for things to get better again.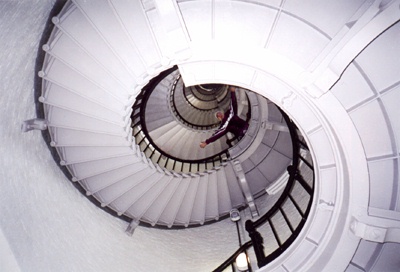 © Andy G., Phoenix, AZ