In an Instant
August 28, 2010
I walked into the bathroom, once more refusing to turn the lights on as I brushed my teeth. I couldn't bring myself to look at my reflection any longer. I was ashamed of myself, surprised that one person who had destroyed several months of my life had changed me so much. I could recall those early school days, bragging to my friends how I'd never let a guy get to me. However, those days of feminism had faded when I became the loyal girlfriend to one of the 'bad-boys' of our school. Contrary to popular belief, I thought this rebel had a soft side, and I had found it. Over half a year I had discovered his secrets until I hit one that had shaken me; drug addiction.

After me coaxing him to stop the illegal practices he dropped me like a log, unwilling to make compromises like a true couple would. He decided to shun me, label me as several nasty things and be done with me entirely, moving on to three girls who had horrible reputations at the school we went to. After weeks of battling with my raging emotions, I had brought myself to start talking to him again, dreaming that one day he would run back to me, beg for my forgiveness, and then we'd have a story-book ending.

Not quite.

I spat into the sink, rinsing my mouth out with water before stepping out of the room, entering my bedroom. I immediately was drawn to my laptop, opening up an Instant Messenger window, only to see that he was online. Clicking his name, I wrote the most simple thing that came to mind.

'Hey,'

Hey? HEY? Was I serious? This kid had just broken my heart into ten million pieces, and all I could manage to say to him was 'hey?' How about 'hey you jerk, having fun dating the school s****?'

I restrained myself, strumming my fingers on my desk, waiting for a response. Finally after a minute or two I got one.

'Hi.'

Wow. Hi? I rolled my eyes, gritting my teeth.

'I hate y--'

I paused, backspacing my words and sighing, resting my elbows on the desk while pressing my face into my palms. Ok, ok, I had to be at least civil with him. That was the key.

'How are you?'

That sounded so desperate. But you know what? I sent it anyway. At this point I could care less about how desperate I sound; I wanted to know what he was up to.

'Fine.'

One word. I guess that's all I deserved, seeing as I was being such a complete loser. Alright, new game plan.

'You and Kaitlyn look so cute together.'

Aha! Reverse psychology. That'll get him. Within seconds, my computer buzzed with a reply.

'We broke up.'

Really? When? Where? How? More importantly, who dumped who? All those immature but vita questions overwhelmed me, but I had to play it cool. Cool as a cucumber.

As a cucumber? No wonder he dumped me.

'That's too bad. I hope you feel alright.'

I sighed, chewing on my bottom lip.

'Thanks.'

That was all he wrote. I brought my hands to the keys, typing the three words that had been burning into my skull over the past few days.

'I love you...'

Before I had a chance to send it, I slammed the laptop shut, unplugging it from the wall so it would lose charge in a few hours. I run my hands through my hand, gnashing my teeth.

There were some things better left unsaid.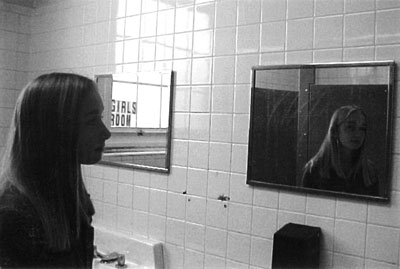 © Jill H., Pompton Plains, NJ