Memories
August 28, 2010
I was struck by the beauty of the scene instantly. Standing there, on the sidewalk, looking over the beach. The sunset was magnificent. Just like I remembered from when I was a little girl.
There were people walking, talking, and just sun bathing on the sandy shore. Several were in the water, enjoying the cool relief it could bring to the stuffy day. Children were running everywhere, their parents hurrying to catch up. How wonderful it would be, to be able to have not a care in the world, just like them again. How much more beautiful the world could be if everything was peaceful, and all you had to do to be happy was chase a beach ball and build sand castles.
Those children, did they even understand how lucky they were? Someone should tell them to enjoy what they have while they're still young. Because far too often we lose that special optimism that makes life extraordinary as we grow older. Sometimes we have no other choice.
I stepped carefully unto the warm sand. Slipping my feet out of my flip-flops, and feeling the sand between my toes, and dared to imagine myself that young again. Closing my eyes slowly I breathed in the smell of sea salt, and the fresh air that only the ocean could bring.
I could feel the warm breeze in my hair, and it took me back to my younger years. When my family and I came here so often that I remembered everything about this little coastline. I remembered riding on my father's shoulders while we were swimming. I would always want to go out to the deeper waters, but I was far to small to stand up, so we would all go together. Mother, Father, my big brother and I.
We would spend almost every lunch here on the beach. The only thing that could keep us away from our wonderful picnics were occasional thunder storms.
On a day just like that we had come out here to eat, and twenty minutes into the meal, out of nowhere came hurricane sirens. Father and big brother had stayed behind to gather the food while Mother and I ran. Why did she have to fall behind in the crowd? Why had those waters taken them away from me?
Questions. So many questions.
But no answers.
How long had I been away? Far, far too long. I had moved away from all of my memories, but hadn't stayed long enough to forget.
Suddenly, I felt a hand on my shoulder. Opening my eyes slowly, and cautiously emerging from my trance, I turned my head to look back at the person that had brought all of my happy times back to me.
"Are you ready to go?" he asked.
"Yes." I said. "I'm ready."
This day was ending, but it was to no loss. Because the end of today brought the beginning of tomorrow.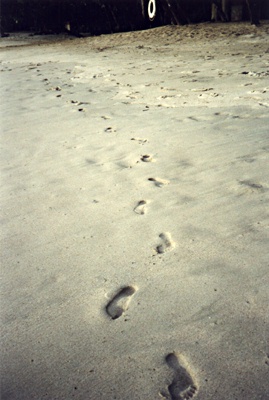 © April W., Rogersville, MO