Too Far Gone
August 10, 2010
Bang-Bang-Bang.
Can't face the music.

I don't recognize the girl in the mirror. She stares back at me with a bewildered expression on her face; she does not remember me. The child she once was with her great sense of wonder and zest for life is gone, her innocence wasted in her years of adolescence. An empty shell of a girl stands before me, intoxicated and in ruin, she's too far gone.

This girl is a mess. Tear stained eyes have caused a stream of black ink to mark her face the sorrow she feels is transparent. Bloodshot to nothing her once sparkling blue eyes are unrecognizable; all is despair for her now. Painted red lips smudged from a scuffle with some mess of a teenage boy, there's no use in saving face now …you're too far gone. Who are you? The rips in your clothes match perfectly with the expression you now wear, torn.

The bathroom in which you stand is painfully white, a contrast to the demons you drag along. The scene is nauseating as the perfect lighting reveals you're true monstrosity… How did it come to this? You were once so lovely so carefree and here you stand with poison in one hand, cigarette in the other wishing to take it all back. Childhood innocence was wasted the moment that poison touched your lips, the sense of wonder you once had vanished with the breath of every cigarette, and here I stand a mere memory from your past. You're too far gone now… much too far.

The door repeats…Bang-Bang-Bang.
Put on a smile, straighten your dress.
And it's time to face the music.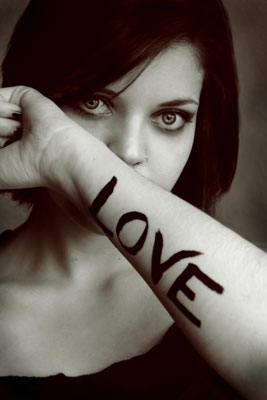 © Michelle B., Blairsville, GA