Sidewalk Violinist
August 17, 2010
"That'll be $3.95," the cashier said. I paid him, and took my Pinkberry frozen yogurt outside. It was my first time in Colorado, I had just arrived yesterday. We were staying in Denver for the first two nights, and today, while my brother and father went to a Rockies game, my mom and I decided to see the sights of the city. So far, I loved it. It wasn't crowded, there were great stores to shop at, and the weather was beautiful. The only problem was that homeless people were ubiquitous. There were on every street, some trying to earn their money by playing instruments, others just begging. They were harmless, but it was still sad to see so many. I sat down on a bench, eating the scrumptious frozen yogurt. Across the street, something caught my eye. Or more accurately, someone. It was a boy with a tattered violin case. He was obviously homeless, with his torn jeans and stained dark blue t-shirt. His hair, chin length and almond brown were slightly greasy. I was surprised; almost all of the homeless minstrels and beggars were at least legal adults, but this boy was my age, he looked about fourteen or fifteen, like me.

It made my heart ache, seeing this poor soul having to live on the street, while I had a loving family, a house, and everything I could possibly want. Even though I knew it was rude, I just couldn't take my eyes off him. He wasn't like the other street folk that hung around, he was as clean cut as a homeless person could be, and it seemed if he had a normal life, he would be the strong and silent popular guy. He took out his violin, a basic acoustic one. It was in pristine condition. It probably was his life (literally). He played a few sweet notes to start, and then commenced a beautiful tune. It had a melancholy and bittersweet sound to it. The music told a story, it mainly spoke of loss and heartache, of hardships, but if listened to closely, the subtext of hope, of fond memories could be detected. I watched him. His face had a far away look, as if lost in memory, and the only way he could communicate now was through his violin.

I seemed to be the only one paying attention. Most of the pedestrians just walked past, chatting on their cell phones and swinging the crisp bags full of recent purchases. Checking my wallet, I realized that I had twenty five dollars left. I had always heard that all the money that was given to homeless folk was used on drugs and cigarettes, but I felt differently about this boy. I stood up, threw away my Pinkberry cup, and walked slowly towards the violinist. His violin case was propped open against the wall. I took the twenty-five dollars out, and, against my better judgment, put the wad of cash in. He had just finished the song, and look up at me surprised. Our eyes met, and some hidden understanding passed between us.

"Gabrielle! Gabrielle, what are you doing? It's time to go to dinner," my mother said briskly, walking up to me. She looked at the boy disgustedly, and threw a "what am I going to do with you" look in my direction. She grabbed my hand, and pulled me across the street. She started lecturing me about the dangers of "riff raff", but I tuned her out. I cast a backwards glance at the musician. He looked back at me, and smiled. I smiled back.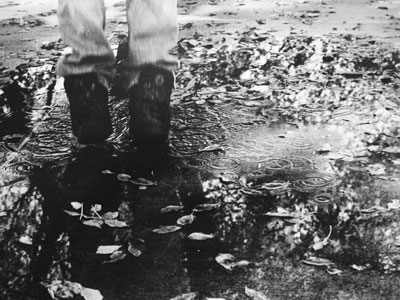 © Laura M., Eagan, MN