The Hero
August 17, 2010
The hot summer sun beat down on my arms and legs and face as I sat on my huge lifeguard chair overlooking the huge turquoise ocean dotted by little pale and tan toddlers. Okay, it's not an ocean, I only wish it was. I literally can't wait to get out of this town. I can't wait to finally get that job as an intern at a fashion magazine in New York and leave this stupid boring and super small water-park. But I was going to have to wait.
There was no action here at Kiddie Paradise. Not that I wanted a small baby to drown or anything, I just wanted to be labeled as a hero in the local magazines and to the old ladies who sit on their porch and gossip all morning next door. "Did you hear? The Morgan's girl saved that toddler from drowning like it was second-nature to her…"
Maybe if I was labeled a hero I could get my own float in a parade. Heck, my own parade! The people of my town will be lining the streets with flowers to throw out at me (hopefully purple pansies, my favorites) and all sorts of candy. They'll be cheering my name… "Sarah! Sarah! Sarah! Sarah!"
Maybe, the mayor will give me my own holiday as a thank-you for saving the kid. It'll be called "Thank-You Sarah! Day" and everyone will come to the water-park and line up to get my autograph and a picture with me. Plus, the water-park will probably give me a raise for helping them with business!
Sure, it'll only be my hometown who will recognize my greatness…at first. Soon it will be the whole country! I'll get interviews on Good Morning America…wait, that's a little too early, maybe Oprah or Ellen. I like those shows. Plus, I will finally be able to make my way to NYC! Soon the entire world will be talking about how awesome I am, just for saving that little toddler…
Something awoke me from my little fantasies. A scream? No, it can't be. Nothing happens here at Kiddie Paradise! Wait, no, that was definitely a scream…for help? Oh my God!
I sat upright in my tall chair and scanned the crowd of small children and big adults in the pool. A very small child was face-down in the water in the roped-off deep end near the diving boards. Half the adults were frozen and half of them (the big ones who can't swim that fast) were rushing to the drowning thing.
I couldn't make my body move. My head was all scrambled as I tried to recall how to give CPR to a baby. I realized I was standing up on my chair, but my legs were Jell-O.
Then, Mark, a really hot lifeguard that's been here for years is sprinting across the cement sidewalk to the deep end. For almost two summers I have been blowing my clean little whistle at kids who run near the pool, but now I couldn't move anything as I stared.
Mark pulled the child out of the pool right as the paramedics pulled up.
Mark gave CPR and brought the child back while she was spurting water everywhere before she started crying.
Mark did what I couldn't: save her. All I did was stand there and stare.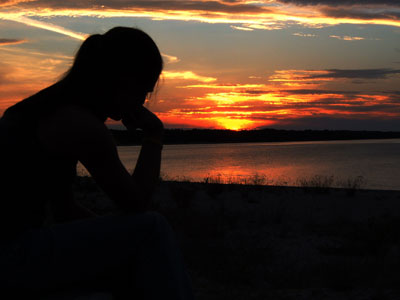 © Hilary L., Rogers City, MI