Alone
August 3, 2010
Breathless. Broken. Bleeding out.
She clutches the knife tighter to her chest, and sends a silent plea to whatever gods may exist.

Trembling. Tortured. Trapped in a living nightmare.
She steps over the cuffs that once chained her to the bed post, presses her palm against the worn wood of the bedroom door, and limps out of her prison cell.

He sits on the couch with his back to the hallway, and watches with gloating eyes as the television flickers-showing scenes of a football game. He doesn't notice her. Even as the floorboards creek beneath her unsteady steps he doesn't turn. So she allows herself to release a shaky gasp-a sob, really-and draw an almost steady breath.

Big mistake. The next grimy bored squeals loudly under her bare, raw foot, and he turns in time to see her first, faltering steps as she tries to run. He jumps, calling profanities and degrading words. He has her in seconds.

She can't block the first blow, as he tosses her abused body against the wall. Or the second as his hand catches her face, sending her sprawling to the dirty floor. But somehow, as he raises his foot, she manages to push herself to her hands and knees. Somehow, as his leather-booted heel crashes into the spot where her arm had just been, she manages to stand.

She is shorter than him. At five-foot-nothing she stands barely eye-level to his muscled chest. But she isn't looking there. Shes looking at his face, set with dull brown eyes and framed with tawny hair. She is looking at his expression as she raises the knife.

Memories flash. Memories of the months spent as his slave. Memories of pleading and begging as he laughed at her, tearing her jeans from her twelve-year-old body and ripping her open-stealing something precious to her. Memories of rapes, beatings, horrors that don't have names.

Shaking. Crying. Falling into insanity.
she plunges the blade into his gut. Pulls it out. Stabs his chest. She becomes a robot. Programed to repeat that one, never-ending motion.
He tumbles on top of her.
She slices into his collar bone.
He reaches up a trembling hand.
She lets the cold steel kiss throat.
He lies limp in her arms.
She pries her fingers from the crimson-stained handle and leaves it buried in his heart.

She is cut and sliced in several places and his blood mixes with hers. She leans over and retches-discussed at the thought of being tainted. First by his essence, and now by his blood seeping into her veins. She feels filthy. Diseased. Impure.

But there is still strength. Somehow she still has strength.

She tumbles to his room, and rummages through his drawers to find a shirt to cover her naked form. The baggy T falls to mid-thigh. Slipping past his corps and stepping outside for the first time in so long..had the October breeze always felt so crisp and fresh? had the sun always been so bright? Panting, gasping, running down street after street until she finds a familiar neighborhood.

She pounds on the doors of the police office, frantically telling them who she is. She doesn't have to. Most of the cops have already heard of her-the little girl who got kidnapped from her bedroom one February night. The little girl everyone assumed was dead.

The only-child whose orphaned only-child parents had committed suicide only a few nights before, driven by grief over there little girl.


Breathless. Broken. Bleeding out.
Completely and utterly alone.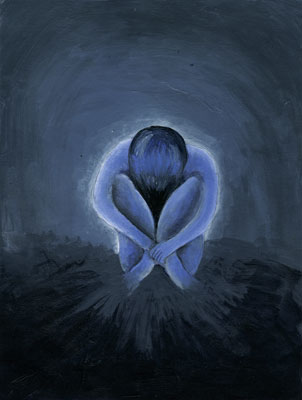 © Becky F., Sacramento, CA