Forevers Summer
July 26, 2010
The summer sun was beating down and pumping up the heat. He offered her a seat next to him on the front porch steps. He was the new kid in town; she was the quiet neighbor girl. For the past 2 weeks, they have sat on these steps every day. He knew her well; He knew he wanted her.
She sat jabbering on about how nice it was to finally have a friend on her road. Soon she realized he had stopped listening, so she just stopped talking.
He turned and looked her square in the eye, startling her, "I want to try something…" he started out. "Would you mind…" he couldn't even finish he was so scared.
"Well, if you want do something; I guess it would be okay." She figured he would just do something like a skateboard trick or something, nothing too drastic.
"But first, you have to promise not to slap me, or get mad. Remember you agreed." He smiled shyly.
"You know, if you want someone to do something, you probably shouldn't say something like that…"
"Well, promise?" he whispered timidly, his uncertainty intensifying.
"Promise! What is…"
Before she could finish, his lips were pressed up to hers, softly and perfectly shaping to hers. The world seemed to silence to make this moment amazing for them.
"Wow…" she said as he removed his lips from hers. "I...Uh…I liked that"
"So, it it okay if I ask you something" he paused for a brief second, "important?"
"Sure! What?"
"Will you be mine," he took a shallow breath, "forever?"
The sun seemed to hurry to set, as she buried her face in his shirt, and he wrapped his arms around her. The sun set the scene for their second, perfect kiss.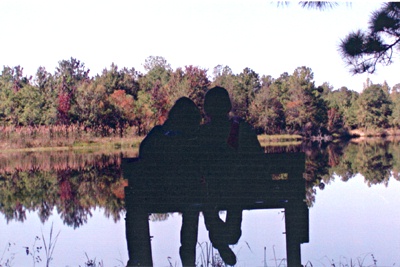 © Heather J., Slidell, LA