The West-Ed Napper
July 28, 2010
As we exit the car, I exclaim, "Whoa! What a huge mall!" Elaina was looking around, trying to figure out where to go first. She started walking. I got a map of the West Edmonton Mall from the booth and followed her. "There are so many stores. It's hard to choose where to go first!" proclaims Elaina. We both decided to go to Starbucks since there was almost no one there. After we got our drinks, we sat down at a nearby table. "Hey Elaina, I think that guy is looking at you" I whispered while nodding my head towards a guy sitting behind her. Elaina turned around slowly, looking for who I may mean. She sees him staring at her. He smiles as Elaina turns back at me. The mystery man had fine, neck length, shaggy blonde hair, a slim but muscular build and a light gold tan. "So are you going to go talk to him? Because if not I'll do it for you!" I told her teasingly. "No, no it's alright." She replied, "I'll go". Elaina stood up and walked over to his table. I could hear bits and pieces of their conversation. I was eyeing them with satisfaction of my matchmaking skills and then, everything went black.

A few hours later, I woke up in a storage room. I had been knocked out. "Ouch." I groaned while rubbing my head. "I have a killer migraine." I heard something coming from outside of the room. The door opened and I saw a manly silhouette. "Oh look! You're up!" he exclaimed. "Where am I? And who are you?!?" I shouted. "I am the one who cared for you, who loved you endlessly and now, the one who has a broken heart." He told me, his voice quiet and depressed. "But who.... Wait, no, it can't be... Alec? Is that you?" I asked, terrified of what the answer may be. He turned on the light. I could see his brown, ear-length hair underneath his light gray cap. His blue-greenish gray eyes were glistening in the bright light. "Alec, why would you kidnap me? Why here? Why now?" I demanded an answer. "Because I love you, that's why." He responded almost instantly, "I've always loved you, and then you had to go and break my heart. Well that's all going to change." I was worried about what he might have meant by 'That's all going to change'. Was he going to hurt me like I had apparently hurt him? Was he going to force me to be his girlfriend once more? Or maybe something worse would happen. I closed my eyes as a single tear rolled down my cheek. I felt his rugged hand wipe it away. "Don't cry, I'm not going to hurt you," he purred softly into my ear. "You're safe with me". Unfortunately, this closed down store seemed soundproof so shouting for help was no option. I saw Alec with my phone, texting. When I tried to look at who he was messaging he slid the phone into the deep pocket of his jeans. "Who were you texting with my phone?" I said angrily. "Calm down. I was only texting your friend, Elaina, a riddle about where you are hiding." He explained. "Wait, what? You knocked me out, kidnapped me and now you're texting clues to my best friend so that she can find me? That's stupid!" I declared. "That's it! I've had enough of your complaints!" He yelled. Then he tied my hands and feet to an old wooden chair, put a clean sock in my mouth and tied another sock around my face so I couldn't scream. He then hid me behind the register counter. Afterwards, he put my cell phone on the counter and walked out of the back door of the store.

My imagination was going crazy. My brain was thinking up the scariest events that could happen to me. When will Elaina ever find me? I was terrified. I could feel the mix of sweat and tears stream down my face. That's when I heard the back door open. I could hear voices. Was it Elaina? Has she found me? Yes! She has! I can see her and the mystery man walking in hand in hand. "Kaly!" screamed Elaina as she runs to free me from all of the bindings. "Thank goodness you found me! I swear to god Alec was going to do something unimaginable to me!" I said, relieved. "So who is this gorgeous fellow?" "Oh right, Kaly this is Jace. Jace this is Kaly." Replied Elaina happily. Elaina leans forward and whispers into my ear, "We're pretty much a couple now". "That's fantastic! Now let's get out of here and go home." I suggest to them. Elaina and Jace both nod. I grab my cell phone and we all leave the mall. Jace walks Elaina and I to our car. I step into the vehicle as Elaina and Jace hug romantically. As Elaina is driving us to her house, I decide to check my phone to see if anything had been changed. I noticed that there was a new note entered into my phone. When I clicked on it, it read "Kaly, I still love you and I'm sorry. Alec". I turn to Elaina in shock. "What's wrong?" she asked. "Oh uhm, nothing. Everything's alright" I replied, shifting my eyes towards the volume switch. I turned on the radio and we rocked out to every song that played and forgot everything that had happened that day.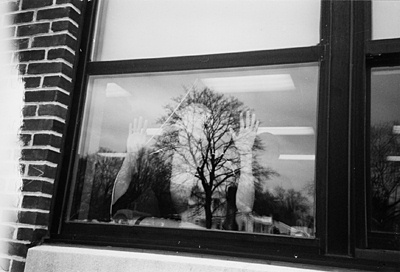 © Kaleigh W., Pompton Plains, NJ