Nothing is perfect
July 19, 2010
Nothing is perfect. My mom completely disaggrees. She's crazy; she's dated a zillion guys and still believes that.

She sits at her vanity table blinking her eyelashes, saying, "The perfect one is out there, just waiting for me…" Fix a little more. Mascara. Blink, blink. Touch of shawdow.
"But you didn't wait so why should he?" I say while rolling my eyes.

She turns, walks across the room and slaps me. "That will teach you not to be sassy to me." Reaching into her purse she pulls out a cheesy lip gloss and rubs it on.

"See," I say, anger spinning deep inside, "You aren't perfect: you have to apply makeup."

Her eyes blaze. Ding-Dong. It's the stupid door bell. Lucky me, he's here. Mom stands up and smooths her dress. Her mascara is a little smudged.

Maybe she was crying.

Mom walks to the door her hips swishing side to side. She doesn't even look twenty. She opens the door and there he stands.

Blake shows my mom a fake smile. Once my moms back's turned he looks straight at me. Tilting my head I wink. He winks back. He knows.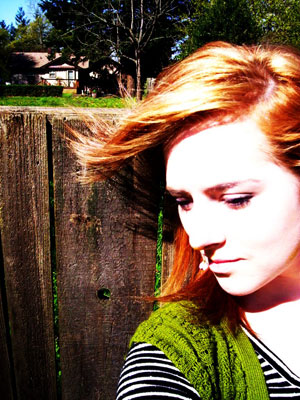 © Anna K., Portland, OR