Blanket
July 14, 2010
I'm not sure why I hate my father. I believe it has something to do with the fact that he "left me" for another family he had. My father's plush lips kissed me gently on the top of my forehead, layered with cushioned love for me. "You smiled warmly in your sleep and tossed yourself towards the window. Then he tiptoed from your room and blew me a smooth kiss goodbye. I knew he was gone when his shadow passed the open door and cocked down the paved street, I cried that night, all night." She cooed. Mama tucked me in every night since that evening, trailing my dreams with a flocculent peck. But there were only few nights when she kissed me, because I left too.





*****

Flint was young then. I recollect the matter that he was still clothed in pampers then. At least 3. It was just by force that I ground trained Flint. I stripped Mama for all the pampers she conceived, but still it wasn't even enough to last me a single week. I reminisce the first time, I ascended down the paved the brick pattern. The streets smelt of curdled milk, sour, and murky. I intertwined Flint's palm into mine and drew him on.

"We have to wait for Mommy." Flint's tiny face saddened. I tugged at his sleeve with a firm grip and pulled it to his eyes to rub away the briny tears.

"Mommy's not coming Flint." I restrain the pain from my eyes and trudge through the thick sheet of snow. I muffle his whimpering with the limp padding of my glove. His nose is cherry red splinting in the cold. I hauled a wrapper of Goldfish and fed the molded cheese to his mouth. He munches casually and then suddenly stops. He's mute the rest of the way, following the path I mark with my worn "fugg" boots. For a time, I believe he's a corpse of the cold air, but he grips tighter for a minute to reassure me. I'm unsure of where we're on our way to, I just walk on into the still darkness peering into the masked lighting that aligns the street. I decide to stop beside a pizzeria. The pizza at the header is crooked and it's a quadrilateral. I chuckle at the queer shape.

"Are we having pee-zuh?" Flint's two front teeth are clambering in unison. I brush his eyebrows down with dry spit and he writhes in pain from the blaze.

"No, we can have these cheese sandwiches." I cull both sandwiches to my chest and attempt to grin. "They're yummy, I promise." I huff a sour breath. He grips at the cheese sandwich indenting his miniature fingers into it's fleshy sides. He eats as if he hasn't eaten in days, I hate that line. "It's a figure of speech." People mock,

"But people haven't eaten in days!" I shout. I had always gotten myself into this type of dilemma. No, I haven't eaten in days. I never admitted this to anyone before. I had distorted the truth so many times over that if I had said any other fact about my life, people would stop believing me. I blanket the surface with my quilt. It's patches are patterned with stripes and plaid, my favorite. Flint lies flat and tugs at his coat to cover up over his ears. I feel his buxom which is soused with urine. He turns to me.

"Can you sleep through it?" I ask, he nods languidly and flattens his head on my shoulder. I turn to pull the sheet over my ears. Dismally, the throw's radius doesn't swing before my ankles. I weep without any tears, it's possibly because I can't afford any.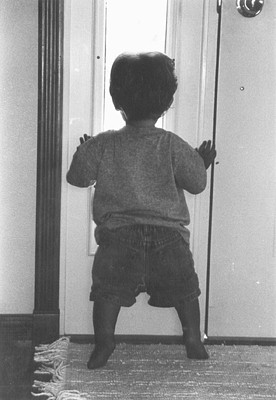 © April D., Whitehall, MT