~Cienema Roma~ Chapter One
July 9, 2010
"Cut! Alice, honey, you're supposed to be sad, not about to rip the kid's head off! Marker, take 10... And action!" Bill, the director of EMERALD CITY, said.
I, Alice, am a 14 year old actress. I am playing Sylvia, the main character, & she has just recently been heartbroken by Jeff, her (NOW) ex boyfriend, who is played by the loathsome, Alexander "Great" Grander. I hate his guts! Just because he is arrogant! I look into his stupid one green, one blue eye and start to falsely sob.
"Oh, Jeff! Why does it have to be this way?! I thought you loved me!" I was really making tears; I just learned how to do that on command.
"Dear Sylvia. Get it together. I'm sure you'll find another." He told me patting my shoulder. I wanted to yank off his arm.
I sniffed. "Don't you see, Jeff? I won't ever find another! I fell in love with ya', and I drowned I tell ya'!" I sobbed harder, (falsely, of course)
"And CUT!! Great job, kids. See you after lunch!" Bill said.
"NEVER touch me again, mmmkay?" I sneered at Alexander.
"Don't plan on it Bulldog!" He flared back.
"Drama Queen!!!" I fired off.
"Tomboy! Butch!" He jeered.
"Invalid!!" I screamed, referring to his bum leg. I didn't mean to though.
"I'm sorry, I didn't intend—"I started.
"Shut up! Leave me alone." He limped off. I felt bad.
"Xander, wait!" I said. He turned.
"How did you know?" He demanded. I knew his mother used to call him that, before she died.
"I was walkin' by your trailer yesterday and I heard your home movies. Your mamma was very beautiful." I said apologetically.
"Thanks, "he said gruffly," Just stay outta' my business, peeper!" he smirked.
"Will do, bum!" I smiled back, he scowled. "I shouldn't be so mean, mamma died when I was real little…" I thought.
'Don you wanna'… never mind, it's stupid." I started, trying to make up for my meanness.
"Do I wanna' what?" He wondered.
"Go get some lunch with me?" I asked through my teeth, ready for a teasing answer.
He smiled, "Sure, I'd love to. Where?"
"Um, I don't really know any good places to go here in Rome." I admitted sheepishly.
"Well' they say, 'When in Rome: take a tour guide'." he laughed.
"Will we be noticed?" I asked uncertainly.
"No paparazzi in Rome, silly!" he chuckled.
"Okay then." I agreed, smiling now too. His one blue, one green eyes suddenly sparkled beautifully with delight. We walked off to the nearest café.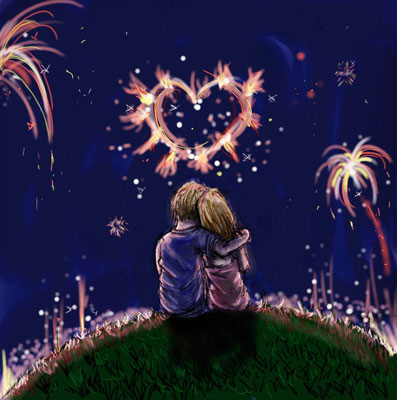 © Carissa G., Aberdeen, WA