Hunger
July 18, 2010
Ice cream. My face paled at the thought. I wanted to eat it so badly. I wanted to buy myself my own tub, dig in and enjoy every taste of sugary goodness. No. No, that's not what I wanted. I wanted to shove it down the garbage disposal before I could eat it, before the sugary poison could touch my lips.

I stared at the chocolate chips. When was the last time I had let myself enjoy the rich taste of chocolate?

It didn't matter, I decided. The sugar and fat was exactly what I didn't need. I looked in the mirror. Two large tree-trunk legs with thighs screaming to bust out of my pants, and hips longing to widen. People say I'm too skinny, but I say I'm too big.

When I was little, when I looked into the mirror, I saw what others saw. I ate what I wanted without feeling guilty. I could smile a real smile. It was a time when the thought of gaining a pound didn't fill me with trepidation. I didn't care what scale read, or what the numbers on the measuring tapes were.

Now that was all that mattered. It was always 'just one more pound' or 'one more inch'. Never has it been enough. Never.

Once again, I peered at the ice cream, not sure what to do with it. I loved food. I loved the taste, the look of it, the crackle of vegetables in a pan, and the smell of cookies in the oven. But never, never, have I allowed myself to eat it. I have turned down sugary foods, avoid meals until I felt like I was going to collapse, for one thing above all: to shrink.

They say what I'm doing will only get me killed. But with each pound lost, each inch down, I feel a rush of happiness, even if it never lasts. And when it doesn't, I repeat Kanye West's lyrics, the reason that keeps me going: What doesn't kill me will only make me stronger.




***

I looked at my girlfriend when I offer her ice cream. I could almost hear the gears in her head grinding, calculating the calories. Almost silently, she said, "No thanks." A forced smile. "I'm not hungry." But I knew. I could hear her stomach grumble, see her hands shake. Each day she seems smaller and smaller to me. It pained me, dragged me into my own personal hell full of worry, disappointment and helplessness.

I could probably fit my hands around her thigh, but I know that's not what she sees.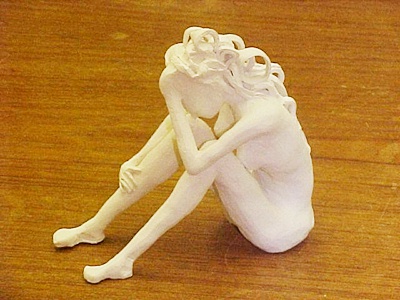 © Christine H., Brooklyn, NY