Abuse: Sara's Story
July 3, 2010
Sitting peacefully, I observe my husky mix. She is indulging in her dreams. Her little feet twitch now and then, she groans and her nose flares. I wonder what she could possibly be imagining. Doggy domination? Chasing her tail? Bones and treats raining from the sky? Perhaps. Or is she having a nightmare. Dreaming of her early days in an abusive home. Chained to another snarling dog. No food for her to enjoy. Out in the pouring rain. Possibly. I can't tell, I can only hope for the very best.

I rise from the couch, hoping not to disturb my aging pooch. She moans when I am unsuccessful. Apologising by rubbing her belly, I tiptoe away while she begins snoring again. My lovely dog has not always had the luxury of sleeping on a couch, or even a floor for that matter. For the first year of her life, she was confined to the outside world with another abused animal. This one, was not as gentle as she. Regularly bitten, beaten, and starved she began to wither away into her terrible existence.

Her life was saved by a few kind people. SPCA employees of where I reside. She was rushed to the shelter as quickly as they could. Trembling at the sight of the humans around her, she barked, growled and put up a fight. They were only trying to help. How could she know? She has never even been talked to before. Let alone pet and held.

Soon enough, the emaciated animal was living in the shelter. A diet of dog food and occasional treats was a far cry from the bugs and plant roots she had once been living on. Fresh water was an amazing gift. As well as a bath and grooming session. She was named "Sara" and given a collar. After being regularly walked and played with she soon became social and was ready to be introduced to a new family. My family.

Sara was very timid at first. She would not dare to whine for treats or sit near or on the couch. When we would give her food, she would eat all of it in lightning speed. Every meal, she seemed to think was her last. She didn't realize that she was loved and was going to be well cared for. As time went by, she was more comfortable. She would lick our hands or let us pet her and rub her tender belly. As more and more time went by, she grew to be one of the family. She wasn't scared anymore, and would greet us when we returned from being away for a little while. She no longer cowered in the corner or ate every meal like she was on death row.

Still, she never fully recovered. If someone slammed the door, she would run and hide. My little brothers wouldn't dare run around her or she would begin to cry and howl in terror. The abuse that had once plagued her life was no longer being physically done but in her young mind it was as fresh as if it happened the prior evening.

Sara grew older. Older until she was nearly blind and deaf. She was slowing down right before my very eyes. It saddened me, but I knew that she had lived a good life after her abuse had ended. She now lies beside me, peacefully dreaming. I hope it is not a nightmare, but if it is, I know that she will wake up and I can console her. This is her home, I am her family, and she is a well loved dog.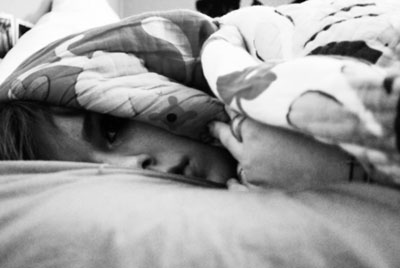 © Erin H., Carrollton, TX